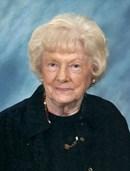 Blanche Jones Brougher, age 92, of Montgomery, Alabama, passed away on Thursday, December 29, 2016, at Angels for the Elderly in Montgomery, where she resided for the past 3 years.
Mrs. Brougher was born in Montgomery to Dr. William Henry and Sue Borders Jones, their fifth child, and only daughter. She graduated from Sidney Lanier High School in 1941. She was a member of Highland Avenue Baptist Church and Mt. Meigs Baptist Church. She owned and operated her own beauty salon in downtown Montgomery for many years.
Visitation will be held on Friday, January 6, 2017, from 1:00 PM - 2:00 PM at Leak Memory Chapel, with graveside services beginning at 2:00 PM at Greenwood Cemetery with Minister Keith Gambill officiating.
In addition to her parents, she was preceded in death by her brothers, Paul, Jim, Bill, and Bob Jones, along with her husbands, Parker Langley, Julius Langston, Tony Taliaferro, and also by her beloved Roy Brougher.
Blanche is survived by her son, James (Martha) Langston, of Crystal River, FL; granddaughters, Sandra (Michael) Poucher and Heather White, both of Florida, and 4 great-grandsons, Joshua (Brittni) Langston White, Bobby White, Matthew White and Ethan Poucher. She is also survived by her niece, Kathryn Jones Smith (Carl) and nephew, Greg Jones, both of Montgomery, and numerous nieces and nephews.
In lieu of flowers, please consider donating in her name to your favorite charity.
Published in the Montgomery Advertiser on Jan. 4, 2017.