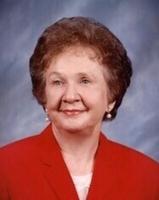 Mildred Johnston Chambers, age 95, died peacefully in her sleep on Thursday, May 13th, in Birmingham, Alabama, where she had lived for the past eight years. She was preceded in death by her beloved husband, John W. "Jake" Chambers, and by her parents Pearl Baltzer Johnston and S. Gordon Johnston.
Mildred is survived by her two daughters, Sandra Ginter (Peter) of Vestavia Hills, Alabama, and Karen Parker (Robert) of Menton, France; two grandchildren, Robert Ginter (Abbey) of Homewood, Alabama, and Karen Yearout (Alex) of Vestavia Hills, Alabama; and four great-grandchildren: Adrianne Yearout, Lexi Yearout, Thomas Yearout, and Jack Ginter.
Mildred was born in Montgomery and graduated from Sidney Lanier High School. After working at S.G. Johnston Nursery, she became a devoted partner in her husband's landscaping and nursery business in Montgomery for more than 50 years. She enjoyed many artistic and creative activities throughout her life, as expressed in her cooking, sewing, and flower arranging in particular. Most recently she took pleasure in working crossword puzzles, reading, and coloring, but her husband, family, and church have always been her primary focus.
In lieu of flowers, donations may be made in her memory to Dalraida Baptist Church, where she and Jake were married in 1944, and both remained active members for many years.
A visitation is set for Tuesday, May 18, 2021, at 10:00 am at Leak Memory Chapel with a graveside service to follow at Greenwood Cemetery at 11:00 am. Online condolences for the Chambers family may be shared at: www.Leak-MC.com.
Published in Montgomery Advertiser from May 15 to May 16, 2021.