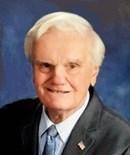 William (Bill) Hadaway peacefully passed into his Savior's arms on Christmas Day at ninety-three. Jo Ann, his wife of sixty-two years, his daughter, Janet (John) Conner, and three sons, Glen (Tracie), Neal (Tisha) and Jonathan (Amy) Hadaway were there or had recently visited. He had one brother, Earl. He lived life fully to the end and had driven to Kiwanis on December 3, 2018.
Bill graduated from Sidney Lanier High School, in Montgomery, Alabama with the Class of 1943 and was soon inducted into the U. S. Army Air Corps. After completing pilot training in April 1945, he was assigned to his B25 bomber crew but never flew in combat thanks to V-J Day. He was one of the youngest of the World War II "Greatest Generation."
Bill graduated from Auburn University with a degree in Aeronautical Engineering in l948. The National Advisory Committee for Aeronautics (NACA) employed him to research ways of building a better airplane. Jo Ann caught his eye in 1954 and they were married on April 28, 1956. Bill and Jo Ann transferred from Virginia to the Ordnance Missile Laboratory at Redstone Arsenal near Huntsville, Alabama. As a registered Professional Engineer in Alabama, he designed and built small rockets and better weapons for the Army. He enjoyed his work and many trips to the Pentagon.
Bill was a member of the First Baptist Church Choir for sixty-two (62) years, and the Living Christmas Tree for thirty-three (33) years. He taught Sunday School and served as a deacon. Golf, bridge and loving his family filled his leisure time.
Besides his wife and children, Bill is survived by twelve grandchildren: Austin, Brooke, and Caroline Conner; Leigh, Josie, Andrea, Olivia, Adrianna, Joshua, Nathan, Luke, and Hillary Hadaway and many nieces and nephews.
On January 5, 2019, a visitation will be held at First Baptist Church Sanctuary at 11:30 with a memorial service at 12:30 pm. (www.laughlinservice.com)
In lieu of flowers, the family requests memorials are sent to FBC Missions or your favorite mission group.
Published in The Huntsville Times from Dec. 30, 2018, to Jan. 2, 2019