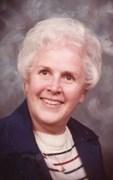 Mayme Green Atkinson, a native of Montgomery, born July 1, 1925, to Earl C. and Bessie McGraw Green. She attended Montgomery Public Schools & graduated from Sidney Lanier High School in 1943. She attended Massey-Draughan Business College and then began work in the accounting field. She worked for ALFA for 27 years retiring with the title of Vice President of Life Accounting and Stock Transfers in 1990. She then finished her college degree at Auburn University Montgomery (AUM) and graduated Summa Cum Laude in 1997. She was a founding member of The Living God Ministries church. She was an avid knitter and knitted hundreds of sweaters for the Knit for Kids program.
She met her husband Richard E. Atkinson while he was an Air Force cadet at Maxwell AFB and married in July 1945. She had two children prior to his death in an automobile accident in 1953. She was predeceased by her parents, her two sisters, Myrtice G. Rachels (Thomas) & Ruth G. Brown (Sam) and brother Earl C. Green Jr., as well as her husband and two nieces.
She is survived by her son David R. Atkinson of Montgomery and daughter Nancy A. Loveman (Randy) of Montgomery, two granddaughters, Robin L. Birdwell (Joe) of Montgomery and Krissy M. Loveman of Santa Cruz, CA and her sister-in-law Olive H. Green of Bay Minette, AL, and ten nieces and nephews.
In lieu of flowers, donations can be made to The Living God Ministries church or worldvision.org/knitforkids.
A Visitation will be held on Thursday, September 27, 2018, at 2:00 pm at Leak Memory Chapel with a Graveside Service following at 3:00 pm in Greenwood Cemetery with Stephen Glover officiating.
Published in the Montgomery Advertiser from September 26 to September 27, 2018