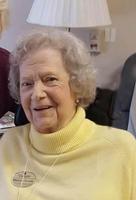 Marjorie Louise Green Scorey, of Birmingham, AL, age 93, went to Heaven on June 12, 2019. She was preceded in death by her parents, George Bliss and Jennie Beatrice Green, daughter, Rebecca Louise Scorey, Daughter-In-Law, Dr. Donna Pierce Scorey, and brothers, Dr. George Bliss Green, Dr. James N. Green and Dr. Harris Reed Green and sister, Janice Mahoney.
Margie (as she was affectionately known to her beloved siblings, nieces, and nephews) was born in Montgomery into a close-knit and loving family as the second of seven siblings. She graduated from Sidney Lanier High School in Montgomery and attended Huntington College. She was married to the love of her life, George W. Scorey for 49 years until his death in 1999.
Margie had a strong will and an indomitable spirit. Graced with a sharp mind and even sharper wit, Marjorie, along with her sisters, would welcome any and everyone into their home, engage them in lively conversation, then more often than not, entice their visitors in a friendly game of cards. Needless to say, she will leave a huge void in so many hearts and we are so thankful for the many years we were blessed with her.
Margie is survived by her sons, Dr. George Scorey, Steve Scorey (Cher); grandchildren, Bill Scorey (Mindi) and Dr. Steve Scorey (Laura); great-grandchildren, Charlotte, Caroline, Liv, Elle, Liam and George; sister, Dorothy Hawthorne; brother, Dr. Richard Green; and numerous nieces and nephews.
Visitation will be held at Elmwood Chapel Funeral Home from 1:00 p.m. to 2:00 p.m. on Saturday, June 15, 2019; 800 Dennison Ave. S.W. Birmingham, AL 35211; followed by a celebration of life at 2:00 p.m. Burial will follow at Elmwood Cemetery.
Memorial gifts may be sent to the:

UAB Comprehensive Cancer Center
1720 2nd Avenue South - WTI 202
Birmingham AL 35924-3300

Big Oak Ranch
PO Box 507
Springville AL 35146
Published in the Montgomery Advertiser on June 14, 2019