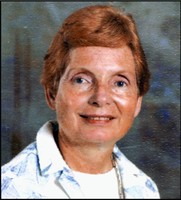 Anne Carolyn Cawthon Williams, 91, passed away in Charlotte, in the early hours of Tuesday, May 23, 2017, following a short illness. She was a long-time resident of Charlotte, having moved to the city after retiring from her career as a public elementary school teacher. She was predeceased by her husband, her parents, and a second brother, Robert L. Cawthon.
Born to Leo and Alese Upson Cawthon on July 12, 1925, Anne grew up in Montgomery, Alabama, graduating from Sidney Lanier High School in 1943. She attended Huntingdon College, then transferred to nearby Alabama Polytechnic Institute (now Auburn University), where she earned a Bachelor's of Education degree in 1947.
Anne spent several summers during the war working as a typist at the Army Air Corps base at Maxwell Field in Montgomery. Having met her future husband at Auburn, she spent a year teaching in Atlanta before marrying George Paul Williams on August 28, 1948. After his graduation in 1949, the couple lived in Tennessee and North Carolina, rearing three children.
Anne taught school for 25 years, primarily instructing students in the 3rd through 6th grades and serving hundreds of young people in their pursuit of knowledge. She was a member of the Jaycees, the Eastern Star, the American Association of University Women, the Women's Club, and the Mecklenburg Historical Association. She attended both the Baptist and the Methodist churches.
With her charming personality and ready wit, Anne made many friends throughout her life. She enjoyed playing bridge, traveling, reading, following the news, attending informative lectures, and caring for her animal companions.
Anne is survived by her three children, Paul (Margaret) Williams, Margaret (Jonathan) Bahr, and Laura Williams; her three grandchildren, Lauren Bahr, Margot Williams, and Katherine Williams; and one brother, Dr. William U. Cawthon.
A memorial service will be held at Providence United Methodist Church, 2810 Providence Road, at 1:30 PM on Sunday, June 4th.
Published in Charlotte Observer on June 2, 2017.