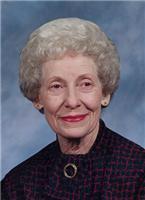 Marie Willis Clements, age 89, of Montgomery, died on September 1, 2014 at Hospice of West Alabama in Tuscaloosa. Visitation will be at White Chapel Greenwood Funeral Home on Thursday, September 4, 2014 from 11:00 - 12:45, followed by a graveside service at Greenwood Cemetery at 1:00 with Rev. Lee Bloodworth officiating.
Mrs. Clements was preceded in death by her loving parents, Cullie and Samuella Willis, and by her brother C.B. Willis, Jr., and her "sister" Mary "Mazie" Washington Giles. She is survived by her three children: Dr. Carl Clements (Pat) of Tuscaloosa, Kay Perry (Dave) of Cincinnati, and Dr. Mark Clements (Melinda) of Atlanta; nine grandchildren, Bradley Clements of Northport, Dr. Michele Clements-Thompson (Chip) of San Antonio, Dan Perry of Dayton, Ohio, Sam Perry (Jill) of Chicago, Beth Harris (Rodney) of Cincinnati, Katherine Elliston (Jason) of Columbus, Georgia, Dr. Isaac Clements (Rebecca), Chrissy Newton (Chad), and Andi Clements, all of Atlanta. She is also survived by 10 great-grandchildren.
Mrs. Clements was a lifelong resident of Montgomery until 2008 and lived almost continuously in the family home in Capitol Heights built in 1922. Following an injury, she was moved to an assisted living residence in Tuscaloosa near her family. She was a long-time member of Covenant Presbyterian Church and sang joyfully in the choir for over 50 years. She attended Montgomery public schools and graduated in 1942 from Sidney Lanier High School. She also became a fan of Lee High School and Montgomery Academy where her children attended. She retired in 1989 after 30 years with Pitney-Bowes Office Machines.
Marie loved tending her gardens and nurtured some of the prettiest azaleas in Capitol Heights. Known for her "sweet tooth," she baked all kinds of goodies that she gladly shared. She was also a fine seamstress and loved to outfit children and grandchildren. She looked forward to working the daily cross-word puzzle in the Montgomery newspaper.
She leaves behind friends and neighbors both in Montgomery and Tuscaloosa. She loved to travel and had fond memories, and hundreds of pictures, of charter bus and car trips with her buddies. The long-time devotion of her friend Lyn Bender has been unwavering. Church circles and members continued to support her as she declined, especially Frances Dozier. Her later years in Montgomery also were greatly benefitted by the friendship, remodeling skills, and ongoing assistance of Don Smith of Prattville. Her walking pal Lorene Rowe brightened many a day. St. Charles neighbors Elizabeth and Carl Ferguson and Mary Louise Garrett made life easier.
The family is grateful for the support and caring of the staff and fellow residents of Merrill Gardens (Brookdale) Senior Living, where she had the reputation of "knowing the words to a thousand songs." Everyone there admired her determined but sweet nature. The Memory Care Unit also nurtured her during the past year. Additional care and support was provided by special staff of Home Instead. Very special thanks to geriatrician, Dr. Regina Harrell, for her skill, compassion, and wisdom. We are grateful too for the peace and comfort afforded her by Hospice of West Alabama.
In lieu of flowers, the family suggests donations be made to:
Covenant Presbyterian Church
Chancel Choir
5 Arden Rd.
Montgomery AL 36107
or to the Alzheimer's Foundation.
Published in the Montgomery Advertiser on Sept. 4, 2014.