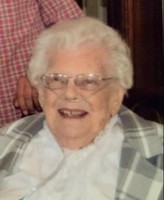 Frances Mae Snider Collier of Hoover, age 92, passed away on Wednesday, Mar 23, 2016. She was preceded in death by her grandson, Hunter Collier.
Mrs Collier was an active member of St. Mark United Methodist Church. She was born, November 4, 1923, in Montgomery, Alabama where she graduated from Sidney Lanier High School and was a majorette.
Mrs Collier was very active at Norwood Methodist Churchin West Palm Beach and worked with the youth for many uears. She continued her work with the youth at St. Mark UMC in Montgomery for over 12 years.
Mrs Collier is survived by her husband, of 69 years, Jim Collier; her son, Jimmy Collier (Jan); her daughter, Linda Morgan (David); her grandchildren, Tiffany Hulsey, Christy Morgan and Jenny Headley; 7 great grandchildren; her brother, Pierce Snider; and a number of nieces and nephews and a host of friends.
The family will receive friends and family on Saturday, March 26, 2016, from 1-2PM at St. Mark UMC with the service to follow at 2PM. Burial will be at Jefferson Memorial Gardens, South. Reverend Don Cross will officiate.
Published in The Birmingham News on March 25, 2016