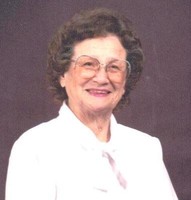 Dorothy Sanders "Dot" Seale, 90, a resident of Prattville, Alabama, passed away peacefully after a brief illness surrounded by her loved ones on April 26, 2014.
Funeral services will be held on Wednesday, April 30, 2014 at 3:00pm at White Chapel Greenwood Funeral Home, with visitation from 2:00pm- 3:00pm. Burial will take place in Greenwood Cemetery.
Dot was a beloved member at Trinity United Methodist Church in Prattville for many years. She was preceded in death by her loving husband, Hestle.
Dot is survived by her daughter, Emily; granddaughter, Jennifer; grandson, Christopher; and four great-grandchildren, Lauren, William, Whesley and Gabriele.
The family would like to thank the nurses and hospice staff at Prattville Baptist for the loving care they gave to Mrs. Seale.
Published in the Montgomery Advertiser from Apr. 29 to Apr. 30, 2014.