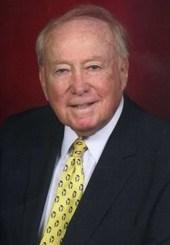 July 30, 1924 - December 24, 2012
Maurice "Red" Bell, a longtime resident of Montgomery, died on December 24, 2012 at 88 years old. He was born in Montgomery on July 31, 1924. He is survived by his wife, Elizabeth Bell, by his sons Mark Bell, Scott Bell, Ralph Kimbrell, and Roy Kimbrell, and by 10 grandchildren and 2 great grandchildren.
Red Bell practiced law as a successful criminal attorney, sought by many because of his skill, compassion, and pursuit of fairness and justice for all he represented. He had many friends and acquaintances in the courts as well as those who came from diverse walks of life throughout the city and state.
Red was a graduate of University of Alabama Law School. He played basketball for Sidney Lanier High School and continued his basketball career on the varsity basketball teams at the University of Alabama and at the University of Kentucky. At the University of Alabama he made the All-Southeastern Conference basketball team, and at the University of Kentucky, he played for one year under coach Adolph Rupp.
In addition to Basketball, he loved the game of bridge becoming a bridge Silver Life Master. He also mentored many young attorneys and helped develop local high school and college basketball players. He was a longtime member of the Agudath Israel Synagogue.
Graveside service will begin at 1:00 PM Thursday, December 27, 2012 at Greenwood Cemetery, 909 Lincoln Road, Montgomery, Alabama 36109.
In lieu of flowers, please send donations to Agudath Israel Synagogue, 3525 Cloverdale Road, Montgomery, Alabama 36111.