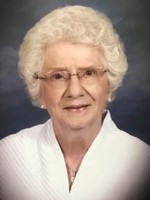 Dorothy Helen McElvy Dean, 94, a lifelong resident of Montgomery, passed away Tuesday, June 27, 2017. She was preceded in death by her husband of 67 years, Ralph Russell Dean, Jr. She was the last of the eleven children of Velattie and Eva Pope McElvy.
Visitation will be held at Alabama Heritage Funeral Home on Friday, June 30, 2017, at 10 AM, with a Graveside Service at 11 AM, in Alabama Heritage Cemetery, with Rev. Bob McElvy, her nephew, officiating.
Dorothy was proud of her long-term career in civil service at Air War College, Maxwell AFB. She held numerous positions, most notably working for the State Department Advisor, including several ambassadors. She was a member of Morningview Baptist Church and enjoyed her Sunday School Class for many years. Dorothy enjoyed travel and gardening and was known for her fabulous birthday cakes. The great joy of her life was her family. She was thrilled to hold her grandchild's grandchild. She was a gracious Southern lady who touched and was loved by many.
Survivors include her children: Susan Dean Foster (Cecil); sons, Ralph Dean, III (Dianne), & Patrick Dean; grandchildren, Laura Kammann (Paul), Robert Foster (Tammy), Ava Crabtree (Todd), Julie Gossett, & Christy Benton (Brad); great-grandchildren, Laurabeth Moore, Jordan Foster, Mackenzie Foster, Joshua Crabtree (Haleigh), Hayden Crabtree, James Savelle, Tanner Gossett, Tori Gossett, Dean Benton, Brady Benton, & Daniel Benton; great-great-grandchildren, Jaysen Crabtree & Karleigh Crabtree. Online condolences may be made at www.leak-mc.com
Published in the Montgomery Advertiser on June 29, 2017.