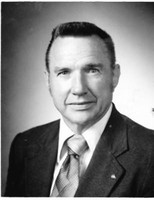 William John Howard, Jr., "Billy", passed away on December 21, 2014 at ninety-one years of age.
Billy was born June 30, 1923 in Montgomery, Alabama where he lived the majority of his life. He was preceded in death by his parents, Fannie Lee and William Howard Sr.; his brother, Lieutenant Neal Dameron Howard; his wife of sixty-four years, Margaret Larkin Howard; and his son, William John Howard lll.
Billy attended Auburn University, graduating with honors and a Master's Degree in Electrical Engineering. Billy served in WWll as a navigational pilot instructor for the Army Air Force.
In 1947, Billy joined his father in business at Standard Electric Machinery Service and served as President of the company. Through this profession, Billy became involved in EASA (Electrical Apparatus Service Association), participating in numerous boards as well as serving as President of the Mid-South Chapter of EASA. Billy was elected International President for the organization.
Billy was an active member of First United Methodist Church serving as a MYF director, Sunday School teacher, member of the Tower Class, chairman of the Finance committee, chairman of the Administrative Board, and a member of the Board of Trustees.
Billy demonstrated his lifelong interest in the scouting program by volunteering as Scout Master to numerous Boy Scout troops and during his service to the scouting program, Billy received the Scout Training Award, Silver Beaver Award, Vigil honor for service in the Order of the Arrow, and the Cross and Flame award. He also served as President of the Alabama Boy Scout Counsel.
Within the Montgomery community, Billy was President of the Capital City Kiwanis Club, a member of the Service Corps of Retired Executives, served as docent for The Montgomery Archives and History Department, a volunteer for the Montgomery Little Theater, and a member of the Committee of "100" for Huntingdon College. He was a recipient of the 33 Degree Scottish Rite Mason award. He was a part of the Meals on Wheels program. Billy and his wife Margaret were the recipients of Montgomery's Senior Achievement Award.
Billy was a member of the Golden Eagle Travel group with Auburn University and a Lifetime Member of the Auburn University Alumni Association.
Along with Billy's varied interest in travel, boating, fishing, gardening and photography, Billy was a published author of two books: In Search of God (a collection of his poems and photography) and Windows of God's World (a photographic portrayal of the stained-glass windows in First United Methodist Church, Montgomery, Alabama).
Billy is survived by his daughter, Sarah Howard Ade (Kevin); his sisters, Nellie H Tiller and Lee H Evans; his nephews, Larkin B Nolen and Roy L Nolen (Evelyn); his granddaughters, Larkin Ade McMillan (Richard), Lee Ade Stout (Charlie) and Mary Howard Ade; his great grandchildren, Sarah Mitchell McMillan, Richard Taylor McMillan lll and Charles Barnes Stout lll; as well as numerous nieces and nephews.
A Memorial Service will be held at noon on Monday, January 5th, at First United Methodist Church in Montgomery, Alabama. The family will receive friends at 11:00 prior to the service.
A private interment for the family will be held at Greenwood Cemetery prior to the Memorial Service.
In Lieu of flowers, memorial contributions may be made to:
•First United Methodist Church
2416 West Cloverdale Park
Montgomery, Alabama 36106-1908
•The Girl Scouts of Southern Alabama
145 Coliseum Boulevard
Montgomery, AL 36109

•The Boy Scouts of America
3067 Carter Hill Road
Montgomery, Alabama 36111
Published in the Montgomery Advertiser on Dec. 28, 2014.