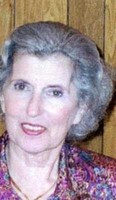 Felice H. Cohen, a lifetime resident of Montgomery, passed away January 17, 2015. She was preceded in death by her husband of sixty-seven years, Isaac Cohen.
She is survived by her daughter, Alise Erdberg (Joe) and Elliot Cohen (Mae)and grandchildren, Mark (Jaime) Erdberg and Jill (Paul) Rothstein, and great grandchildren, Anna Erdberg, Kacy Rothstein and Bo Rothstein and her brother, Richard Hanan.
To her grandchildren and great grandchildren she was lovingly called Gigi. She was a very gentle kind person who will be missed by countless friends and family.
Felice graduated from Sidney Lanier High School. She was active in National Council of Jewish Women and Hadassah. She enjoyed volunteering in the community. Felice was a long time member of Etz Ahayem and Temple Beth Or.
Pallbearers will be Morris Capp, Buddy Rousso, Steve Miller, Joel Cohen, Mark Erdberg, Paul Rothstein, Alan Weil Jr. and Harry Witt. Graveside services will be conducted by Rabbi Elliot Stevens at 10 am on Monday, January 19, 2015 at Greenwood Cemetery.
In lieu of flowers contributions may be made to
Temple Beth Or Floral Fund
2246 Narrow Lane Road
Montgomery AL 36106.
Published in the Montgomery Advertiser on January. 18, 2015.