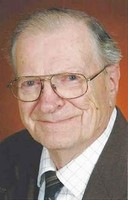 Posted Nov. 5, 2015 at 7:22 PM
On Nov. 4, 2015, Charles Spurgeon Davis, Jr. died peacefully at home from cancer.
Charles was born in Montgomery, Ala., on Nov. 30, 1922. He enlisted in the U.S. Navy in 1942, serving on the battleship USS New Mexico until the war's end.
While stationed in Beeville, Texas he met and married the love of his life, Janet May Winder, on Sept. 11, 1944. After the war ended, he attended Vanderbilt University, receiving his Bachelor's degree in 1948, and then taught for a year in Deckard, Tennessee before obtaining a Master's Degree from Peabody University.
He then moved to Oak Ridge with his wife and first son, Charles D. (Rick), where he lived, with the exception of two years in Florida, for the rest of his life. He first taught at Robertsville Junior High School, and then served as a guidance counselor at Jefferson Junior High School and Oak Ridge High School, obtaining his Ph.D. in Education from the University of Tennessee, and retiring in 1977.
After retirement he continued to serve the community as part of Recording for the Blind and Dyslexic and the American Association of University Women; he was a supporter of WUOT, the Children's Museum of Oak Ridge, Aid to Distressed Families of Appalachian Counties, the Ecumenical Storehouse, the League of Women Voters, and the Oak Ridge Institute for Continuing Learning within Oak Ridge, as well as the American Red Cross, Doctors Without Borders, and a number of veterans' and children's charities.
He was a member of St Stephen's Episcopal Church and of the Elks Club. He and Janet travelled extensively throughout the United States and Europe. He was also an avid photographer and needle-pointer, and a supporter of the Oak Ridge Chamber Music Association and the Oak Ridge Playhouse.
Charles was predeceased by his parents, Charles S. Davis, Sr, and Laura (Georgia) Davis; and sister, Myrtle Brock, all of Montgomery; and by his beloved wife Janet.
He is survived by his five children, Rick, Karen, Laura, Molly, and Carl; Molly's husband, Virgil "Bud" McKee; Laura's partner, Pamela Breeden; and Carl's partner Sherree Alder; grandchildren, Rick and wife Laura, Krista Ash, and Elizabeth Jordan; sister-in-law, Hazel Winder; nieces Betty Kalen and Linda Winder and nephews Robert "Bobby" Brock, Davis Brock and Thomas Winder and wife Jill; and great-grandchildren, Emily, Ryan, Ayla, Gwendoline, Coraline, Alexander, Hayley, and Dexter.
Services will be at St. Stephen's Episcopal Church Saturday, Nov. 7, at 11 a.m. with a reception to follow. Interment will be at the church.
Charles continued to support the schools in Oak Ridge as part of Oak Ridge Public Schools Education Foundation, and in lieu of flowers, the family requests donations be made to the Foundation, Aid to Distressed Families of Appalachian Counties, or the Free Medical Clinic of Oak Ridge.
Online messages may be left for the family at www.martinfuneralhomeoakridge.com.
---
Deceased Poet: 1941 Davis, Charles
Date Of Birth: Nov-30-1922
Date Deceased: Nov-4-2015
Age at Death: 92
Cause of Death: cancer
Poet City: Oak Ridge
Poet State: TN
Poet Country: USA
Was a Veteran: Yes Navy
Survived By: Children Charles, Karen, Laura, Molly, Carl
Served in WWII; degrees from Vanderbilt, Peabody and Tennessee; a guidance counselor in the Oak Ridge school system; a good man much loved, he died at home with his children present after a swift illness.
Information provided by Karen Davis.