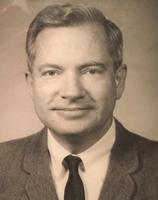 Dr. William Upson Cawthon age 97, passed away March 22, 2021, in Opelika, Alabama. He was born December 4, 1923, in Montgomery to Leo and Alese Upson Cawthon. He is preceded in death by his parents, his wife Kathleen (the former Kathleen Moore Strickland of Atlanta and Selma), his daughter Mary Kathleen Cawthon, his brother Robert, and his sister Anne Cawthon Williams.
He is survived by his sons David (Wendy), Richard (Natalie), and Robert; grandchildren Ross, Eleanor, and James; nieces Janie Cawthon Brock, Margaret Williams Bahr, and Laura Williams; and nephew Paul Williams.
He attended Cloverdale School and later graduated from Sidney Lanier High School. He entered the University of Virginia, graduating Phi Beta Kappa, and took an extra year to earn a Master's degree in history with an award-winning thesis. He went on to graduate from the University of Virginia School of Medicine where he earned membership in the Alpha Omega Alpha honors society.
During his training as an Internal Medicine resident at Cornell's New York Hospital, he helped carry out clinical trials at a Navajo reservation in Arizona that demonstrated the profound benefit of INH (isoniazid) in the treatment of tuberculosis, which throughout history has been the leading cause of death from a single infectious agent. The drug study won a medal at a Chicago national medical meeting and was covered in the New York Times in 1952.
Following residency training, he returned to the University of Virginia for a one-year cardiology fellowship. He served two years in the Air Force as Chief of Chest Medicine at Patrick Air Force base in Florida during the Korean Conflict. He then returned to Montgomery to practice internal medicine. With a subspecialty in cardiology, he practiced for thirty-one (31) years primarily in association with Jackson Hospital. He shared an office with his wife Dr. Kathleen Strickland Cawthon, who practiced dermatology. They met when he was an instructor in an anatomy course she took as a Biology graduate student. She too entered the University of Virginia School of Medicine.
They took annual trips back to NYC, sometimes with some of their children, to enjoy plays, classical music concerts, ballet, opera, French cuisine, and museums, and to Connecticut/Westchester County and Vermont/New Hampshire to see the fall foliage. He was a member of the Lions' Club and Unity Club, and of a local opera appreciation group with his wife.
He will be interred in the family plot of Magnolia Cemetery in Andalusia. The time and place of a memorial service, when decided, will be posted with The Montgomery Advertiser.
Published in Montgomery Advertiser from March 30 to April 1, 2021.