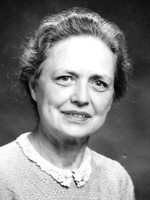 Sept. 29, 1922 - Jan. 18, 2015
Genie Blue Mathews Palmer, 92, longtime resident of Birmingham died peacefully on Sunday, January 18, 2015.
Memorial services will be held, Thursday, January 22nd at Canterbury United Methodist Church with visitation beginning at 12:00 noon in the parlor, followed by the Service at 1:00 pm with the graveside service to follow.
Genie Blue graduated from Lanier High School in Montgomery and received a BS degree in Marketing from the University of Alabama. She was a lifelong Girl Scout and volunteer. Within two months of moving to Birmingham following her marriage to Robert Evans Palmer, she had a Brownie troop started. Her volunteer work with the Cahaba Girl Scout Council continued for over 60 years, serving on the Board or Board Committees for over 50 years.
In 1997, the Council honored her with the Mildred Bell Johnson Award. In addition to her commitment to Girl Scouts, Genie Blue had been active in the PTA at various schools in the community. She had served as Treasurer of the Business and Professional Women of Birmingham, had been a member of the American Businesswomen's Association, as well as serving on the Board for Gateway Services, and served as president of the Crestline Garden Club. She was very active in her church, Canterbury United Methodist, where she had served on the Board, on the finance committee, as Circle Chairman and as Stephen Minister.
Genie Blue was a past president of the UMW and was a long time member of the John Wesley Sunday School Class. As a resident of Somerby she welcomed new residents as a member of the Hospitality Committee.
She is preceded in death by her husband, Robert Evans Palmer and her parents Joseph Gibson Mathews and Genie Blue Howard Mathews, her son, Robert Boyd Evans Palmer and her sister, Mary Ellen Bryan.
She is survived by her three children, Genie Blue Palmer, Mary Elizabeth Dyar (Jeff) and Fred McClusky Palmer (Marcella); five grandchildren, Amanda Leigh Dyar, Robert Frederick Dyar, Kelly Marion Shaffer, Douglas Daniel Shaffer and Jennifer Lynn Palmer; and one loving sister, Mrs. Evelyn Pierson of Gadsden, AL.
In lieu of flowers, the family requests donations are made to Canterbury United Methodist Church.
Published in The Birmingham News from Jan. 19 to Jan. 21, 2015