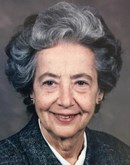 Elizabeth "Betty" Crommelin Nicrosi Robison, 95, a lifelong resident of Montgomery, died on February 21, 2018. The eldest child of William Kelly Nicrosi and Elizabeth Crommelin, "Betty", as she was affectionately known her entire life, was born on January 6, 1923. She was preceded in death by her husband, Vaughan Hill Robison, and her brother, William Kelly Nicrosi.
She is survived by her three loving daughters: Elizabeth de Juan (Eugene), Laura McDuffie (Kenneth), Ann Del Simone; and by her eight grandchildren: Elizabeth Anna Tester (Jason), Eugene deJuan III, Emily Rose Shearon (Matthew), Elena Litz (Nicholas), Laura Paul (David), Elizabeth Duany (Brandon), Sarah Louise McDuffie, and Alice Jeanne Del Simone; and eight great grandchildren: Hampton, Jack, and Mary Frances Tester; Howard and Rosie Shearon; Lincoln Vaughan Litz; and Elizabeth and Arthur Paul. She is also survived by one beloved brother, Charles Crommelin Nicrosi of Montgomery, and a number of cousins, nieces, and nephews.
After attending Margaret Booth School, she graduated from Sidney Lanier High School in 1939. In 1943, she graduated from Bryn Mawr College in Philadelphia, and from the Harvard School of Design in 1948, where she studied under Walter Gropius, founder of the Bauhaus School. After her years in graduate school, Betty returned to Montgomery where she took part in designing the Montgomery Area Coliseum and many residences of family and friends. She married Vaughan Hill in 1952 and began raising their family.
In addition to her love and devotion to all her children and grandchildren, she was an active volunteer and leader in the Montgomery community.

She served as President of the

Montgomery League of Women Voters
The National Society of Colonial Dames in Montgomery
The Montgomery Junior League

An active member of

The Montgomery Museum of Fine Arts
The Tintagle Club
20th Century Club
Pandora Club

In 1970, she was elected as the first woman on the Vestry of St John's Episcopal Church where she was an active member throughout her life.
A lifelong learner and an avid reader, Betty was an inspiration to family and friends with her curiosity and a keen interest in many topics including history, art, and architecture. She will be especially missed by her family - who considered her a steady rudder and a woman of tremendous character, intelligence, grace, and love - as well as the Montgomery community she loved and so freely supported and enhanced.
Her family would like to express their heartfelt gratitude to Lillie Patton, Carrie and Salena Shepard, Willie Preston, Addie Hayes, and all of the caregivers from Beacon House, who provided her with such loving and professional care and support.
The funeral will be at 11:00 a.m. on March 3, 2018, at St John's Episcopal Church. Family and friends are invited to gather one hour before in St John's Parish Hall.
In lieu of flowers, remembrances may be made to:

St John's Episcopal Church
or the charity of your choice.
Published in the Montgomery Advertiser on Feb. 25, 2018