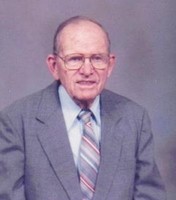 Henry "Ogden" Sherer passed away on November 22, 2014, at the age of 97. He was born in Montgomery, Alabama on January 27, 1917. Mr. Sherer was preceded in death by his wife, Lois Edna Sherer; parents, Henry and Ola Sherer; two brothers, James Willard Sherer and Russell Reeves Sherer; one sister, Lolita Sherer Smith.
He is survived by a son Clyde Sherer, a daughter-in-law Janice Sherer, granddaughter Diana (Eric) Strickland, granddaughter Kristen (Seth) Henry, great grandson Garrett Strickland and several nieces and nephews including a special caring niece Ruth Yeager from Bessemer, Alabama, and many close friends and neighbors.
Ogden was a member of First Christian Church in Prattville. He grew up in the Bell St area of Montgomery where his Father, H. V. Sherer, had a drugstore called Sherer Drug for several years. Ogden graduated from Lanier High School where he was a member of the band. As a teenager he was active in Boy Scouts and later became an assistant scoutmaster at Troop 23 at Maxwell and Troop 25 in Prattville. He was also a member of the Order of DeMolay and was very active in the Knights of Pythias.
At the age of 18 he was riding a bicycle to make a drugstore delivery and was hit by a beverage truck that ran onto the sidewalk. Ogden suffered a serious head injury when he was dragged by the truck for several feet. He was in the hospital for several days and the doctors did not know if he would recover.
Ogden met Lois Wingard from Eclectic, Alabama when she worked at a Kresge store in downtown Montgomery. They married in 1940. In 1946 Ogden and Lois moved to Prattville where they opened a country store on Hwy 31 North of Prattville where Autauga Heights is now located. Lois ran the store while Ogden worked in Montgomery at various places including Durr Drug Company, Nolen McInnis, Baker Brothers and Amco Inc. Mr. Lorenzo Duncan a part owner of Amco at the time has been a special friend to Ogden for several years.
Ogden was very active in supporting his wife Lois in her cooking, canning and growing produce for entry into both the Autauga County Fair and the South Alabama State Fair where she won over a thousand ribbons and several silver platters. Lois was given a key to the City of Prattville by former Mayor Jim Byard for her hard work over the years. Ogden was also instrumental in compiling her recipes into a cookbook which was purchased by people worldwide.
Ogden enjoyed the deep sea fishing trips with Amco employees, working with model trains and planting flowers and growing roses which were admired by those that stopped by. He enjoyed watching baseball and was a big Atlanta Braves fan. He also enjoyed college football and was a life-long Alabama Fan.
Ogden and his son Clyde worked for several years to clear and fence the 80 acres of land that Ogden owned north of Prattville where they raised beef cattle.
A special thanks to Cassie Patterson and Kandice Ray with Southern Care Hospice for all the care and support they gave to Ogden Sherer during his extended illness and to their associates that were there during this time. They all have been a blessing to the family during this difficult time.
Services will be held on Wednesday, November 26, 2014 at 1:00 p.m. from the Chapel of Prattville Memorial with Pastor Dave Thomas officiating. Burial will follow in Prattville Memory gardens with Prattville Memorial directing.
Active Pallbearers will be Eric Strickland, Seth Henry, Joe Wingard, Doug Yeager, James Hines, and Wesley Ross. Honorary Pallbearers will be Lorenzo Duncan, L. D. Thomas, and Fred Moody.
Visitation will be held on Tuesday evening at Prattville Memorial Chapel from 6:00 p.m. until 8:00 p.m.
Published in the Montgomery Advertiser from Nov. 25 to Nov. 26, 2014.