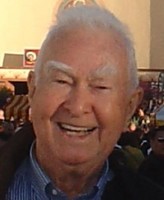 Francis Thomas "Tom" Payne, a resident of Dallas, TX, and Fairhope, AL., passed December 30, 2014, in Dallas, TX, at the age of 94 after a brief illness. Tom was born June 22, 1920, in Birmingham, AL, to Travis Alexander and Theo Reita (Hall) Payne. He was married to William Arvelle (Roberts) Payne with whom he adopted five children. His second marriage was with Sarah Dudley Edwards.
He is survived by his sister, Mary Payne Smith of Wetumpka, AL; son Thomas Payne and wife Pam of Molino, FL; son William Payne and wife Elizabeth of Dallas, TX; daughter Frances White of Pensacola, FL; and son Robert Payne and wife Sandra of Montgomery, AL; step-son Claude Buchanan III of Auburn, WA; 7 grandchildren, 8 great-grandchildren, and his cat.
He was preceded in death by his wives, his brother Travis Payne of Atlanta, GA, half-sister Wynona Payne Gault Plumb of Mineral Wells, TX, and infant son Edward Justin Payne. Tom grew up in Gurley, AL, then Lowndesboro, AL, then Pike Road, AL.
He was a 1939 graduate of Sidney Lanier High School in Montgomery, AL. He attended Alabama Polytechnic Institute (Auburn) graduating in 1948 as a Mechanical Engineer. During WWII, he worked at Boeing in Seattle on B-17 design then as a field service engineer and served in the Navy on the AVS-4 Alioth. He ran successful consulting businesses and the family Angus operation.
After retirement, he lived in Montgomery, Huntsville, and Fairhope. He enjoyed life with family, friends, projects, travelling, and investing. A memorial service will be held at 12:30 on Monday, March 30, 2015, at St. Matthew's Cathedral, 5100 Ross Avenue, Dallas, TX 75206, followed by a graveside service at the Dallas-Fort Worth National Cemetery at 2000 Mountain Creek Pkwy, Dallas, TX 75211.
In lieu of flowers, memorial contributions may be made to:
Vanderbilt-Ingram Cancer Center Fund
Vanderbilt Gift Processing Center
PMB 407727
2301 Vanderbilt Place
Nashville, TN 37240-7727
Published in the Mobile Register and Baldwin County from Feb. 20 to Feb. 22, 2015.