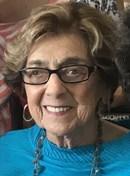 Jeanette Cohen Rousso, 97, died in her home surrounded by her loving family in Montgomery on June 20, 2018. Born June 16, 1921, Jeanette was the third of five children of Eli and Allegra (Pizante) Cohen. Both parents were Sephardic Jewish immigrants from the Mediterranean island of Rhodes, and Jeanette grew up hearing and speaking Ladino, a Judaic Spanish dialect, in their home on the corner of Hull and Monroe streets. The family was part of a vibrant Sephardic community, centered in the synagogue her father helped found, Etz Ahayem, where Jeanette twice served as Sisterhood President.
Jeanette was a devoted and energetic daughter, sister, mother, grandmother, aunt, cousin, and friend who embraced her mother's tradition of using large holiday meals to gather the extended family. An exuberant and generous hostess, Jeanette opened her home for holidays and on countless other occasions to family, friends, and others; she never met a stranger and never turned down a party or an opportunity to dance. Jeanette was an expert in preparing the cuisine of the "Rhodesli," Ladino-speaking Jews of Rhodes, and welcomed friends and family with feasts of pasteles, burekas, quajado and other delicacies. At weddings, she could be counted on to lead the singing of "Apple Blossom Time," a ballad made popular in 1941 by the Andrews Sisters. She was very active, enjoying synagogue functions, museum events, dining out and along with some of her dearest friends gathered weekly for afternoons of comradery and Mah Jongg.
Jeanette also enjoyed travel, both in the U.S. and abroad, whether family trips, cruises, reunions or trips related to the family business, Shoe City. She hardly ever missed family bar & bat mitzvahs, weddings, girls' trips with cousins or friends, daughters and granddaughters. She loved New York and Broadway plays and took several "final" trips to New York.
She was very generous with her time and support, contributing to a variety of charities as well as special cases where she saw a need.
A 1939 graduate of Sidney Lanier High School, Jeanette lived her entire life in Montgomery, except for a brief period in California from the age of four weeks to five years, and as a newlywed in Fort Mammoth, New Jersey in 1945, during her husband Morris' service in the U.S. Army.
Until her marriage in 1945, Jeanette worked with her father at Cohen Amusement Co. on Dexter Avenue, a family vending machine company. She also worked with her husband, Morris, and his partner, selling handbags at downtown Montgomery stores, Al's Bootery and The Shoe Box.
Jeanette was predeceased by her parents, husband Morris S. Rousso, brother, Isaac Cohen, and sister, Lina Levine. Survivors include children Buddy Rousso (Jo Anne Howington), Montgomery; Sue Ann Jaffe (Michael Rabinowitz), Birmingham; Joy Rousso (Max Alligood), Atlanta; sister Pauline Witt, Birmingham; brother Raymond (Kathie) Cohen, Montgomery; grandchildren Eli M. Rousso; E. Jeanine Rousso; Jamie M. Jaffe; Scott M. Jaffe (Keiko Yano); Alex P. Madans (Nancy Lieberman); great-grandchildren Allegra Lieb Madans and Benjamin Rain Jaffe; and many cousins, nieces, nephews and beloved friends.
The family is grateful to Jeanette's longtime helpers and caregivers Lillie Tillman and Evelyn Wiley.
Pallbearers are Elliott Cohen, Joel Cohen, Marty Green, Jamie Jaffe, Alex Madans, Eli Rousso, Ellis Weiss, Harry Witt, Jeremy Love, and Billy Howington.
The funeral will be at 3:00 PM, Friday, June 22 at Leak Memory Chapel 945 Lincoln Road, Montgomery, Alabama.
In lieu of flowers, the family requests donations to:

Congregation Agudath Israel Etz Ahayem
3525 Cloverdale Road
Montgomery AL 36111

Hospice of Montgomery
111 Holloway Park
Montgomery AL 36117

Montgomery Museum of Fine Arts
1 Museum Drive
Montgomery AL 36117

or a charity of your choice.
Published in the Montgomery Advertiser on June 21, 2018