Juanita B. Prendergast, born November 27, 1921, a native of Montgomery, Alabama and a longtime resident of Mobile passed away on June 23, 2013.
She was raised and educated in Montgomery, graduated from Sidney Lanier High School and attended Spencer Business College.
In addition to her parents, she was preceded in death by her beloved husband, Frank E. Prendergast; two brothers, Powell M. Bedgood, Jr., James E. Bedgood, Sr.; and granddaughter, Margaret Gay Phillips.
In her business career she was employed by three Federal agencies before moving to Mobile in 1951, where she held executive positions with Waterman Steamship Corporation and Southern Industries Corporation. She was past president of Mobile Opera Guild, Arthritis Foundation and Ladies Golf Association of the Mobile Country Club.
She is survived by three step-daughters, Minerva Prendergast Phillips (Charles), Mary Prendergast Roberts (Bubby), and Susan Prendergast Boyles (Gordon), two nephews, and five brothers and sisters. She is also survived by five grandchildren and seven great-grandchildren.
A graveside memorial service will be held at 11:00 a.m., Tuesday, July 16, 2013 at the Old Springhill Cemetery.
Arrangements by: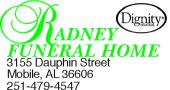 Published in the The Mobile Press-Register from July 11 to July 14, 2013