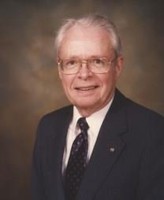 James L. "Jimmy" Rouse, Jr., 95, of Montgomery, Alabama, died February 18, 2016. His wife of 65 years, Emma Lou Farrior Rouse; parents, Jim and Louise Rouse; sister, Anne Bricken; and son-in-law, Darryl Gates, preceded him in death.
A service will be held on Tuesday, February 23, at 3:00 p.m. at Leak Memory Chapel, 945 Lincoln Road, with Chaplain Jim Williams officiating. Visitation will be one hour prior to the service. A private interment will be held.
Jimmy was a prominent businessman, generous donor and enthusiastic leader in the Montgomery community. He graduated from Sidney Lanier High School as class president, and from Auburn University, where he was president of Sigma Alpha Epsilon fraternity.
He retired as president of Rouse Motors Inc., a Chrysler Plymouth dealership, and served on many local, state and national boards, including the Montgomery Auto and Truck Dealers Association, the Automobile Dealers Association of Alabama, the National Automobile Dealers Association and the National Chrysler Plymouth Dealer Council. He served as chairman of the Montgomery Area Chamber of Commerce, and was chairman of the Committee of 100. He also served as president of the Montgomery Rotary Club.
He was named 2001 Senior Volunteer of the Year for his many years of service as a docent at the Alabama Department of Archives and History Museum, and he was a recipient of the 1993 Seniors of Achievement Award.
He was a member of First Baptist Church, and enjoyed singing in the choir. Friendly, kindhearted, and generous, Jimmy was mindful of the needs of others.
Among those he leaves are two daughters and a son-in-law, Martha Gates of Montgomery, and Linda and Denny Taylor of Corpus Christi, Texas; four grandchildren, Leigh Bowman (Brooks), Amy Downey (Scott), Craig Gates (Rachael), and Scott Gates (Kelly); eight great-grandchildren, Jacob Bowman; Carson, Taylor, Samantha and Hannah Downey; Avi Gates; Maddie and John Paul Gates; brother-in-law, Reese Bricken (Sunshine); a niece and nephew.
His family extends gratitude to the caring staff at John Knox Manor II.
Memorial contributions may be made to:
Alabama Department of
Archives and History Foundation
PO Box 300100
Montgomery AL 36130
or
John Knox Manor II
West Wing Dementia Unit
4401 Narrow Lane Road
Montgomery AL 36116
Published in the Montgomery Advertiser from Feb. 21 to Feb. 23, 2016.