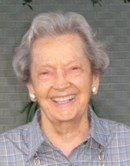 Frances Sledge, 99, a lifelong resident of Montgomery, died on January 15, 2018, after a long illness. Born on September 14, 1918, she was the daughter of Evelyn P. and W. Kells Sledge, as well as the stepdaughter of George F. Bailey, Sr. She graduated from Sidney Lanier High School, attended Mary Baldwin College for two years, and helped with nursing at Maxwell Air Force Base during World War II. She was devoted to her husband of 55 years, the late John B. "Nick" Nicrosi.
Frances' passion was always her family, loved ones, and countless friends. She delighted in her children and grandson: Frances and Joel Harris (Salt Lake City), Carolyn and Dennis Bernard (Kiawah Island, SC), and Peter Harris (Minneapolis, MN). She considered Barbara Britton and Evelyn Stutts to be her "adopted" daughters. She dearly loved her siblings: Evelyn S. Britton, Betty B. Shirley, and George F. "Bubber" Bailey, Jr.
In recent years she was grateful to be surrounded by dedicated caregivers, especially Jackie Tyner, Viola Burt Reynolds, numerous sitters with John Knox @ Home and medical staff members and caregivers at John Knox Manor.
Frances was a woman of many talents. She was an accomplished golfer, with 3 holes-in-one to her credit. She was active in numerous civic and service organizations, including the Junior League, Antiquarians, Garden Club, and Montgomery Museum of Fine Arts. An active member of the Church of the Ascension, she lovingly served on the Altar Guild for many years. Perhaps her greatest gift and pleasure was literally right in her own backyard---- digging, laying brick, planting, and making things grow and thrive. Her garden was truly her masterpiece and her refuge.
Visitation will be Saturday, January 20 at 10:00 am in the Library at the Church of the Ascension, followed by funeral services at 11:00 am. Private interment at Oakwood Cemetery.
In lieu of flowers, the family requests that memorials be made to:

The Church of the Ascension
325 Clanton Ave
Montgomery AL 36104

Alzheimer's Association
P.O. Box 96011
Washington, DC 20090-6011
Published in the Montgomery Advertiser from January 18 to January 19, 2018.