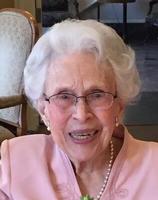 Alice Elizabeth Griggs Cumbus, 102, died Friday, January 8, 2021, at home. She was born March 18, 1918, in Montgomery, the daughter of the late Ben Hybert Griggs and Bertha Ott Griggs.
She went to Highland Avenue Grammar School, where her two children later attended, graduated from Sidney Lanier High School in May 1936, and attended Huntingdon College for two years. As a young woman, she worked as a clerk in her father's store, B.H. Griggs Produce on Madison Avenue in downtown Montgomery.
On Easter Sunday, April 9, 1939, Alice married Alton Beverly Cumbus in an 8 a.m. ceremony at Highland Avenue Baptist Church. She liked to tell the story of their honeymoon to Chattanooga, Tennessee, and while at Ruby Falls, they almost spent their first night in an underground passage when the elevator operator forgot the last group of tourists. Luckily, he remembered as he sat down to dinner, returned to work, and sent the elevator down to retrieve the newlyweds.
Alton and Alice were married for 70 years before his passing. They remained members of the church until 1979 when they were among the founders of McGhee Road Baptist Church, where Alice participated in the Greeters' Committee and Wednesday Night Suppers as an organizer.
At Highland Avenue, she also served as a director and teacher in the Sunday School department, a Training Union director, Girls Auxiliary leader, WMU president, and a Vacation Bible School teacher. After the closing of McGhee Road Baptist Church in 2017, Alice attended Heritage Baptist Church.
Well-known for her homemade sour cream pound cakes, she often held them on her lap on trips to see her children and grandchildren. A world traveler, she was also fond of collecting antiques, was an accomplished seamstress, and enjoyed playing cards with her friends.
Mrs. Cumbus is survived by her daughter Beverly Cumbus Schauer and her husband, Monty, of Marietta, GA, and son Dr. Benjamin Joseph Cumbus and his wife Virginia of Montgomery.
Also surviving are her grandchildren and great-grandchildren, Sommer Schauer Briner and husband, Thaddeus, of New York, NY and their children Hale and Heath; Brandon Schauer and wife, Cori, of Washington, DC and their children, Sam and Freya; Kevin and Katie Cumbus and children Cooper and Camille of Charlotte, NC; and Katie Cumbus Shute and husband, Jesse, also of Charlotte, NC and their children, Walker and Evelyn.
The family extends its sincere appreciation to Sharon Williams and Carla Thomas for their love and devotion to Alice during the last several years.
The Reverend Neal Hughes will officiate at a graveside service at 1 p.m. Wednesday, January 13, 2021, at Greenwood Cemetery. Those who wish to attend the service should gather in their cars at Leak Memory Chapel, 945 Lincoln Road at 12:45 p.m. for a procession to the cemetery. Masks and social distancing will be required. The service will also be live-streamed on the Leak Memory Facebook page.
In lieu of flowers, the family requests memorials to be sent to the:

Cooperative Program for Missions
Montgomery Baptist Association
20 Interstate Park Dr
Montgomery AL 36109
Published in Montgomery Advertiser from January 10-12, 2021.