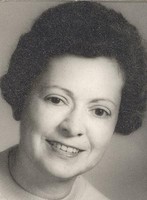 Helen P. Moynihan, age 98, of Seaford, passed away peacefully on Sunday, April 19 surrounded by her loving family. She was born in St. Louis, Missouri on May 14, 1916 to Laurence and Elizabeth Prince. She was the great-great granddaughter of Chief Justice James Booth of New Castle and the great-granddaughter of Dr. Marius Duvall, former Medical Director of the US Navy.
Raised in Montgomery, Alabama, she attended Sidney Lanier High School, Huntingdon College, Georgia College and State University, and Emory University. Helen then taught school in Atlanta, Georgia for several years.
During WWII, she met Edward J. Moynihan who was stationed there with the U. S. Army. They were married on Tybee Island, Georgia in 1946 and moved to Seaford, Delaware, where Ed was a high school mathematics and physics teacher, and later an administrator for the school district.
While raising her four sons, Helen returned to school and obtained a masters degree in library science from the University of Delaware. She then worked as a librarian for the Seaford District Library and Delaware Technical and Community College, Georgetown, from its founding in 1967 until 1984. She loved traveling, swimming, golfing, playing bridge, and watching the St. Louis Cardinals play baseball. Helen was also a proud member of the American Association of University Women, the Seaford Historical Society, and the Friends of the Seaford District Library.
Her loving husband, Edward Moynihan, her son Raymond Moynihan, and her brother, Laurence Prince, preceded her in death. She is survived by three sons: Edward Michael Moynihan, Laurence Moynihan and his wife Kaye, and Francis Moynihan and his wife Marcie. Also left to cherish her memory are her grandchildren: Jennifer Moynihan and Greg Tokarsky, Edward Moynihan and Molly Askin, Kelly Moynihan, and John Moynihan. Her two great-grandsons, Gabriel and Theodore Tokarsky, also adored her.
Mass of Christian Burial will be held on Saturday, April 25th at 11 AM, at Our Lady of Lourdes Catholic Church, 532 Stein Highway, Seaford, DE, where friends may call from 10 to 11 AM.
In lieu of flowers, contributions may be made to the Seaford District Library, 600 N Market St Ext, Seaford, DE 19973, or the Seaford Historical Society, 203 High Street, Seaford, DE 19973.
Arrangements by the Cranston Funeral Home, Seaford, DE.