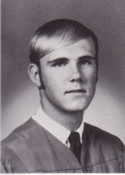 John P. Brooke, Jr., a teacher, died on April 27, 1993, from complications due to AIDS. His living legacy is the hundreds of students he taught at Tapp Middle School, Rock Chapel Elementary, Pine Ridge Elementary, and Oak Grove Elementary. He has taught in the public schools of Georgia since 1975.
Mr. Brooke is survived by his long-time companion, Randall S. McCormick, and his mother, Mrs. Norma Brooke Rue, his sister, Ms. Mari Don Smith, his niece LaShane Smith, his grandmother, Mrs. P.H. Ballard, his loving nephew and adopted son, Larry D. Blanks and his wife, Vicki Blanks and their son, Brendan Blanks.
Mr. Brooke request that in lieu of flowers, donations be made to:
Oak Grove Elementary PTA
1857 Oak Grove Rd NE
Atlanta GA 30345
Mr. Brooke's remains were cremated, and a Memorial Service will be held Wednesday, April 28 at 5 p m. in the chapel of A S. Turner & Sons, Decatur, Ga
AFTER HAVING WALK THROUGH LIFE, I TURNED AROUND AND SAW THAT MY FOOTPRINTS WERE WORTH LEAVING. MY MARK ON THIS EARTH WAS A GOOD MARK.
A. S. Turner & Sons