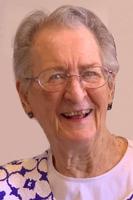 WATERLOO - Emily Katherine "Kitty" Ott, 94, of Waterloo, died Thursday, March 5, 2020, at her daughter's home in Cle Elum, Washington.
She was born June 21, 1925, in Auburn, Alabama, the daughter of Samuel H. and Laura G. Johnson Gibbons. Kitty graduated from Sydney Lanier High School in 1943 and attended Huntington College, both in Montgomery. She married Orlan W. Ott on April 21, 1946, in Montgomery, Alabama. Orlan died on January 14, 2017.
Kitty was a secretary in the Waterloo school system for 24 years, working at Lafayette Elementary, McKinstry Junior High, and East High School. She retired in 1987. She was a member of First Presbyterian Church in Waterloo where she served as a deacon, usher, and as a member of the Presbyterian Women. She volunteered for several organizations including Allen Memorial Hospital Auxiliary, the Waterloo Public Library, and the gift shop at the Waterloo Center for the Arts.
Kitty is survived by her daughter, Emily (Charles Johnson) Millar of Cle Elum' Washington; two sons, Orlan "William" (Catherine) Ott of San Diego' California, and Michael (Robbi) Ott of Charlotte' North Carolina; seven grandchildren: Liz Johnson, Sean Johnson, Sean (April) Millar, Zachary Johnson, David (Cheryl) Garvin, twins, Haelli (Jared) Wiesehan and Madison (Matthew) McDonald; and two great-grandchildren, Zachary Garvin and Brenden (Emily) Garvin. She is preceded in death by her husband Orlan, and six siblings: Elizabeth Hanson, Sam Gibbons, Laura Schwartz, Margaret Byrne, Marie Moon, and Billy Gibbons.
Celebration of Kitty's life, Saturday, July 31, 2021, from 1:00 to 4:00 p.m. at the Waterloo Center for the Arts in the Visual Arts Studio. Memorials in lieu of flowers may be directed to First Presbyterian Church or the American Cancer Society.
Kitty was a long-time Highland resident, most recently residing at Friendship Village. She touched the lives of many students during her years in the school system. She could most often be found knitting or watching her beloved Cubbies and Iowa Hawkeyes. She and Orlan loved road trips, especially when visiting family.
Condolences may be left at LockeFuneralHome.com.
Published by Waterloo-Cedar Falls Courier on Jul. 25, 2021.