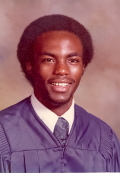 The late Roderick Barnabus Hall known to many as "Ricky" transitioned home Wednesday June 20, 2012. Ricky was born, October 12, 1961 to the late James Hall and Elvene McCall Hall, Montgomery, AL. He was also preceded in death by three siblings.
The services for Ricky were held Sunday, June 24, 2012 at 2:00 P.M. at the Mt. Olive Missionary Baptist Church, Huntersville, NC. with the Rev. Byron L. Davis officiating.
Ricky came to Christ at an early age. He was baptized at Holt Street Baptist Church, Montgomery, AL. under the leadership of the late Dr. A. W. Wilson where he was active in a variety of auxiliaries. He trained in Martial Arts at the Cleveland Avenue YMCA and went on to become an accomplished Black Belt.
Ricky attended Montgomery Public Schools and was a proud 1980 graduate of Sidney Lanier High School. He also participated in the annual Upward Bound Summer program at Alabama State University.
Ricky was a veteran of the United States Army and served a tour overseas in Germany. He was awarded an honorable discharge. Shortly afterwards he married Tonya Davis, January 19, 1986, in Columbus, GA. He began a career as a professional truck driver. He was a loyal employee at Coca-Cola Company, Charlotte, NC.
Ricky was an energetic and dedicated member of Mt. Olive Missionary Baptist Church. He was also a faithful and committed member of the Deacon Ministry, Male Chorus, Gospel Chorus, Youth & Angel Choir, Mass Choir, and the Praise & Worship Ministry until his demise. His undying love for the string instrument was evident each time he played.
Surviving to cherish his memories: his wife of 26 years, Tonya Davis Hall, Charlotte, NC; one daughter, Danielle Perry (Dante), Harrisburg, NC; five granddaughters, Bre'hana, Tanizhia, T'kojia, Aujiane' and Gabrielle, Harrisburg, NC; a loving mother-in-law; Marian Davis, Jamesville, NC; siblings, James Hall, Jr. (Cleorniece), Shreveport, LA, Frozenia Hall, Montgomery, AL, SGM (Retired) Earnest Hall (Veola), Severn, MD; Gwendolyn A. Hall McCree (Charles), Archie Hall, and Vonzetta H. Ward (Eddie) of Montgomery, AL; Victoria Hall, Birmingham, AL; Rhonda H. Oliver (Jerry), Landover, MD; one aunt-in-law, Ruby L. Johnson; a host of nieces, nephews, cousins, church family and friends.
Published in the Montgomery Advertiser on July 1, 2012