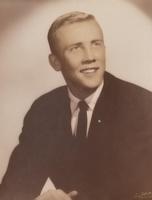 Samuel Wayne Slay of Montgomery, Alabama passed away on November 30, 2018, at the age of 77. Mr. Slay was preceded in death by his parents, William Ralph Slay and Elaine Murphy Slay, of Montgomery.
Born on October 4, 1941, Mr. Slay attended Lanier High School and graduated from Auburn University in 1966 with a degree in Business. He retired from United Parcel Service after nearly 20 years of service.
Mr. Slay is survived by his devoted and loving wife, Blondina Becker-Slay; daughter, Stacey Slay-Tollison (Bobby) of Helena, AL; son, Brent C. Slay (Shae) of Montgomery, AL; son, Douglas A. Slay (Emily) of Birmingham, AL; daughter, Rebecca S. Edmondson (Thomas) of Franklin, TN; grandchildren, John David Tollison, James Douglas Tollison, Anna Claire Slay, Joshua Mason Slay, Emma Slay, Nicholas Slay, Payton Slay, Jake Slay, Mary Margaret Edmondson, and Mallory Collins Edmondson.
He is also survived by Roland Brockman of Houston, TX, Rick Brockman (Rita) of Beaumont, TX, and Barbara Brockman Wages (Michael) of Wetumpka, AL; grandchildren, Kristie Hutto (Kelley) and Seth Scheurer of Alamogordo, New Mexico, and Kyle Curenton of Huntsville, AL.
A Graveside Service will be held for Mr. Slay on Wednesday, December 5, 2018, at 11:00 am in Greenwood Cemetery.
The family would like to extend special thanks to the staff of Prattville Baptist Hospital and Merry Wood Lodge in Elmore, AL for the outstanding care provided.
Fond memories and expressions of sympathy for the Slay family may be left at www.Leak-MC.com.
FAMILY

William Ralph Slay, Father
Elaine Murphy Slay, Mother
Blondina Becker-Slay, Devoted and Loving Wife
Stacey Slay-Tollison (Bobby), Daughter
Brent C. Slay (Shae), Son
Douglas A. Slay (Emily), Son
Rebecca S. Edmondson (Thomas), Daughter
John David Tollison, Grandchild
James Douglas Tollison, Grandchild
Anna Claire Slay, Grandchild
Joshua Mason Slay, Grandchild
Emma Slay, Grandchild
Nicholas Slay, Grandchild
Payton Slay, Grandchild
Jake Slay, Grandchild
Mary Margaret Edmondson, Grandchild
Mallory Collins Edmondson, Grandchild
Roland Brockman, Step-Son
Rick Brockman (Rita), Step-Son
Barbara Brockman Wages (Michael), Step-Daughter
Kristie Hutto (Kelley), Step-Grandchild
Kyle Curenton, Step-Grandchild
Seth Scheurer, Step Great-Grandchild