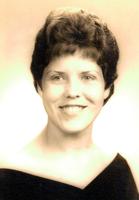 Linda Robinson McLendon, age 77, passed away on January 10, 2021. Linda was preceded in death by her husband, Carl McLendon; her parents, Lester & Louise Robinson; and her siblings, Robbie Oliver and Jimmy Robinson.
Survivors include her son, Wayne McLendon; daughter, Penny Owens (Mike); grandchildren, Morgan Hollingshead (Chris), Ashley Nelson, Todd Owens (Amy); great-grandchild, Jackson Hollingshead; sisters, Peggy Pooley, Shirley Headley (Don); as well as several beloved nieces and nephews.
Linda was a tiny package with a big personality. She had a zest for life that touched everyone she came in contact with. Linda loved spending time on Lake Martin, whether it be camping in the woods or at the family lake house later in life. She would never turn down the opportunity for a good time and is at the center of the most treasured and enjoyable memories of her family and friends.
Visitation will be at 1:00 pm on Tuesday, January 19, 2021, at Leak Memory Chapel with a Graveside Service at 2:00 pm at Greenwood Cemetery.
Pallbearers include Chris Hollingshead, Todd Owens, Jayme Robinson, Joey Riley, Tyler Jones, and Randall Brown.