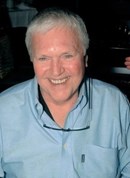 William Ross Britton Jr passed away peacefully surrounded by his family on June 27, 2017, in Charlotte, NC at the age of 74. He lived life to the fullest despite living with multiple myeloma for approximately eight years. Bill was born in Montgomery, Alabama on January 9, 1943, to the late Dr. William Ross Britton and Margaret Mead Britton.
Bill graduated from Wesleyan University in Middletown, Connecticut after spending his junior year at the University of Alabama, where he met his wife, Cathryn. They were married in 1965, and he graduated the following year from the University of Michigan with a master's degree in Actuarial Science. He then worked at Connecticut General Life Insurance Company for many years before retiring after a long and successful career as a consultant.
Bill is survived by his wife, Cathryn; their five children, Mead of Seattle, WA, Elizabeth (Alan) of Charleston, SC, Ross (Kristin) of Asheville, NC, Miles (Lizzie) of Valle Crucis, NC, Leighton (Quentin) of Charlotte, NC; his six grandchildren, who lovingly called him "B", Ansley, Britton, Tenety, Bubba, Emelin, and Ellis; and his brother, Dr. Arthur Britton (Maureen) of Montgomery, AL.
Bill was loved dearly by his family and many treasured friends for his infectious positivity and generous spirit. Bill enjoyed traveling, spending time in the mountains of North Carolina, watching the Panthers while doing a crossword puzzle, and reading The New York Times, among many other hobbies and activities. He was a die-hard Alabama football fan, and in his last few hours, he dreamed that he was talking to Bear Bryant, which brought peace and laughter to his family. They knew he was in good hands.
A service to celebrate Bill's life will be held on Friday, June 30, 2017, at 11:00 AM at St. Peter's Episcopal Church, 115 West Seventh Street, Charlotte, NC. A reception will follow in the Parish House after the committal in St. Peter's Memorial Garden.
In lieu of flowers, memorial contributions can be made to the:
Carolinas Myeloma Research Fund
Carolinas Healthcare Foundation
208 East Blvd.
Charlotte NC 28203
or The Endowment at St. Peter's Episcopal Church.
The family gives thanks to Dr. Saad Usmani and the wonderful team at the Levine Cancer Institute for their dedicated care during his illness.
Robertson Funeral and Cremation Service is serving the family.
Published in the Montgomery Advertiser on June 30, 2017.