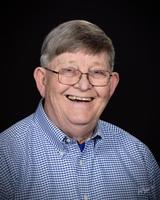 Randall D. Culp,74, went home to be with his Lord and Savior Jesus Christ on February 2, 2022.
Randall was born on July 22, 1947, at St. Margaret's Hospital in Montgomery, Alabama.
He was a lifelong resident of Montgomery, graduating from Sidney Lanier High School in 1965 where he played clarinet in the band.
Randall devoted 24 years of his life to military service, having served in the United States Air Force and the 908th Air Force Reserve Unit, retiring as a Senior Master Sergeant.
After his service in the Air Force, Randall opened Dimensions Furniture in Montgomery and was the proprietor until he retired from the furniture business in 2017.
In addition to being a businessman, Randall served his community by graduating from Citizen Police Academy and participating in Volunteers in Police Service (VIPS).
Randall was a very active and faithful member of Frazer Memorial United Methodist Church, serving in different capacities for over 30 years. At Frazer, Randall was best known as "Mr. Randall" to the 2 and 3-year-olds that he and his wife Lydia taught in Cherub Church on Sunday mornings and in the Cherub Choir on Wednesday nights.
When Randall was in his late 60s, God called him into ministry as a licensed local pastor. He pastored the congregation at Mt. Carmel United Methodist Church in Davenport, Alabama from July 2014 until his death.
Randall was preceded in death by his parents Charles Wilson Culp and Laurice Culp Moseley and his brother Robert Charles Culp.
Randall leaves to cherish his memory his devoted and loving wife of 33 years, Lydia Culp; son David Culp (Kaye), stepson Jason Skelly (Shay) whom he loved as his own; granddaughters Misha Culp, Madison Claire Culp, Mary Charles Culp, Ashlyn Skelly; grandson Tanner Skelly, and sister-in-law Sandra Culp and a host Aunts and Cousins.
Visitation will be held Monday, February 14th at 12:30 pm in the church parlor at Frazer Memorial United Methodist Church in Montgomery, Alabama.
A Celebration of Life service will follow at 2:00 pm in the main sanctuary.
Services
Monday
February 14, 2022
12:30 PM to 2:00 PM
Frazer Memorial United Methodist Church Chapel
CELEBRATION OF LIFE
Monday
February 14, 2022
2:00 PM
Frazer Memorial United Methodist Church Chapel