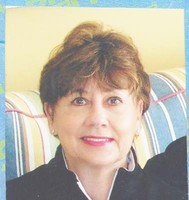 Sara Ann Springer ("Sally"), a longtime resident of Montgomery, was born on October 16, 1950. She died peacefully at home after an extended illness on January 23, 2016. She is preceded in death by her parents, Jack and Sue Springer, and her brother. Jack, Jr.
Sally is survived by her husband, Richard Friar; a stepdaughter, Allison Friar; a sister, Susan (Alan) Brewer; two brothers, Tim (Nancy) Springer and Phillip Springer, as well as five nephews and nieces and three great nephews and one great niece.
Sally graduated from Sidney Lanier High School in [1969]. She worked for the Alabama Department of Revenue for 42 years. She fully retired from the State in 2012 and returned as a part time employee in the Revenue Commissioner's office until she became ill in early 2015.
A memorial service with Pastor Walter Albritton officiating will be held on Thursday, January 28th at 11:00AM at Leak Memory Chapel in Montgomery, Alabama.
In lieu of flowers memorial contributions may be made to Baptist Hospice Montgomery or to Sally's favorite charity, The Montgomery Humane Society or to your favorite charity.
Published in the Montgomery Advertiser on Jan. 26, 2016.