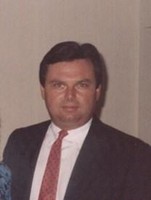 January 31, 1950 - March 24, 2014
Johnnie Roy Goodson, Jr., a lifelong resident of Montgomery passed away at his home on Monday, March 24, 2014. Mr. Goodson was preceded in death by his parents, Johnnie Roy (Sr.) and Lucille Hill Goodson; brother, Dev Riddlebarger.
He is survived by his wife, Peggy Goodson; son, Trey Goodson; brother, Statt (Pat) Riddlebarger; sister-in-law, JoAnn Riddlebager; nieces and nephews, Gerry Riddlebarger, Joe (Linda)Riddlebarger, Susan (William)Green, Mike (Lilliam) Riddlebarger and Lori (Rick) Vankluyve.
Funeral services will be held on Thursday, March 27, 2014 at Leak Memory Chapel at 10:00 am with Reverend Scott Schumpert officiating. Visitation will be held at Leak Memory Chapel on Wednesday, March 26, 2014 from 5:00pm until 7:00pm. Burial will follow in Greenwood Cemetery.
He will be lovingly and fondly remembered by his friends and all that knew him through his community services.
Serving as pall bearers will be, Ronnie Sexton, Randy Thrash, Buddy McQuagge, Frank McGough, Phil Owen and Mike Johnson.