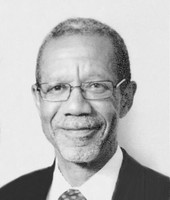 After courageously battling a number of health issues, Richard Eugene Cobb II, 65, passed away on January 9, 2017. His story begins on March 14, 1951, as the second born child to Richard Eugene Cobb I and Annie Dorel (King) in Montgomery, Alabama. He attended Sydney Lanier High School and graduated in May of 1969.
Richard started his military career in 1971 and served in a number of locations. Being assigned to Fort Carson, he became a 30 year resident of Colorado Springs. In 1991, he retired U. S. Army CW3, Missile Systems Technician after serving his country for 20 years. Richard continued to be active even after his military career by extending his credentials as Best Buy Manager and an ITT Electronics Lead where he retired for the second time.
During his assignment in Fort Lewis, Washington he met Barbara Glenn and they were married on March 10, 1982, in Fort Bliss, Texas. Richard and Barbara celebrated 34 years of marriage last March.
Richard had a number of hobbies including fishing, woodworking, hosting a great BBQ, enjoying Royal Crown with his many buddies and playing dominoes. As a member of the American Poolplayers Association, he earned the title of "Champion" in 8 & 9 Ball. He also enjoyed college football (Roll Tide)!
He is survived by his loving and dedicated wife, Barbara; his children: Janel (David), Tory, Maria (Joseph), KC (Chris); his siblings: Phyllis (Jack), Gwendolyn (Malcolm), Reginald (Barbara J.), Ernestine (Melvin); his grandchildren: Madigan, Lillian, Seth, Archer, Anna, Naomi, Callan and Max. He was preceded in death by his parents, Richard Eugene Cobb I and Annie Dorel (King) Cobb.
A visitation will be held from 5:00 p.m. to 7:00 p.m., January 12, 2017, at Shrine of Remembrance, 1730 East Fountain Boulevard, Colorado Springs, 80910. Services will be held at 2:00 p.m., January 13, 2017, at the same location. Full military honors will be bestowed at interment at 2:00 p.m., January 16, 2017, at Fort Logan National Cemetery, 4400 West Kenyon Avenue, Denver, 80236.
Online condolences: