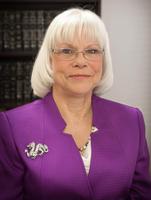 Roianne Houlton Conner Born March 18, 1952, to Roy Hinton Houlton Sr. and Mannie Tompkins Houlton at Maxwell Air Force Base, departed this life at her home in Pike Road, Alabama on May 25, 2020, surrounded by family. She is preceded in death by her father.
Raised in Montgomery, Roianne graduated from Sidney Lanier High School. She attended the University of Alabama for one year before she joined the "Family Business."
In 1972, Roianne started as a secretary with the Montgomery Police Department and graduated from the police academy in November 1973. Roianne was one of a handful of women, who at the time were called a Police Woman, a title she despised until the end. She went on to become one of the first two female detectives. While with the police department, she took part in creating the rape unit, worked in a newly formed School Relations Unit, and the Youth Aid Division. While employed there, she earned her Associates, Bachelors's, and Master's degrees from Troy State University. She left the police department as a Detective Sergeant.
After leaving the Montgomery Police Department, Roianne began working for Ira Dement and attended law school at night. In 1987 she was admitted to the Alabama State Bar after graduating from the Thomas Goode Jones School of Law. When it became apparent that Judge Dement was going to be appointed to the Federal Judiciary, Roianne took her talents to the Montgomery County District Attorney's office. While at the District Attorney's office her favorite job was running the "Mod Squad." It allowed her to be with law enforcement daily and still be an attorney.
In 1993, Roianne decided that it was time for her to spread her wings and opened her own law practice. Outside of her family, it was her pride and joy. She mentored many young attorneys and always enjoyed showing them the ropes. She hated when her "babies" would leave the nest, but it was always a joy to pick the next attorney to mentor. Though Roianne was never able to be a Judge on a daily basis, she fulfilled that dream through special appointments. She also served on numerous boards and organizations throughout her career. She served on the board of the Family Sunshine Center and as President of the Montgomery County Bar Association Women's Section just to name a couple. She made every effort she could to advance women's rights in the legal field.
Roianne also stayed true to her roots and the family business by serving as a PBA attorney. While on the journey of life, she was an adjunct professor at Troy State University and Thomas Goode Jones School of Law.
Roianne is survived by her mother Mannie T. Houlton as well as her children Sterling J. Frith (Jennifer), Jessica F. Hampton, Jennifer F. Smith (Leigh), and Joshua A. Frith (April). She is also survived by her brother and sisters, Roy H. Houlton Jr. (Janet), Ruby H. Jackson, and Rebecca H. Weston (Keith). Roianne also has 6 grandchildren who were her pride and joy, Kade Hampton, Kallie Hampton, Harrison Frith, Evelyne Frith, Asher Smith, and Thatcher Smith.
Pallbearers will be Judge J. R. Gaines, Mickey McDermott, Johannes Rech III, Roy Houlton Jr., Keith Weston, Joshua Frith, Sterling J. Frith, and Wade Hampton. Honorary Pallbearers will be her grandchildren.
Funeral Mass will be held at Holy Spirit Catholic Church on Monday, June 1, 2020, at 11:00 am. A graveside service will be held immediately following Mass at Greenwood Cemetery.