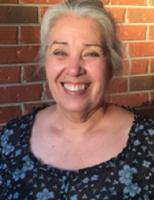 Virginia "Ginny" H. Liming, 69, was born July 6, 1952, and passed away peacefully at home accompanied by family and friends on May 22, 2022. She was the daughter of Anne and Roy Hardeman. Ginny is preceded in death by her mother and father.
Ginny taught Art at Walton Middle School most of her career and enjoyed hosting the WMS Halloween costume contest. She volunteered her time creating murals and set pieces for the Florida Chautauqua Theater and assisted with events for the Art League. After retiring, she created unique textured pottery and attended various art classes. She instructed her friends in china painting and experimented with various mediums. She enjoyed creating flowerbeds and planting a variety of flowers throughout her yard. As she walked her yard, she could name each flower.
She is survived by her two daughters, Emily Daka (Dedrix) and Kelsey Liming (Corey Allen); her two granddaughters, Naomi and Abigail Daka; two grand dogs, Cupid and Frankenstein; her siblings, Gayle Peirick, Robbie Hardeman, Rick Hardeman, and Patti York; and several nieces, nephews, and great nieces and nephews.
Ginny requested her body to be donated to science to help others. The family will have a service at a later time.
In lieu of flowers, the family requests donations are made to the Walton County Art League.
Arrangements are under the direction of Davis-Watkins Funeral Home of DeFuniak Springs.
To send flowers to the family or plant a tree in memory of Virginia Liming please visit our Tribute Store.