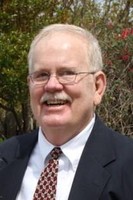 Curtis Q. Pittman, 66, of Montgomery, Alabama went to be with the Lord on Sunday, October 2, 2016 after a long battle with Parkinson's Disease. He was preceded in death by his parents, John Q. Pittman and Ruth Snell Pittman.
Curtis leaves behind to cherish his memories his loving wife of 39 years, Linda Coulter Pittman; adoring daughters Ashley Pittman Vice (Marty) and Kelly Pittman Borden (Jonathan); caring brother John M. Pittman (Faye); precious grandchildren Camilla Avery, Caroline Olivia and Connor Curtis Vice and Olive Jane and Brightly Ruth Borden.
Curtis was a loving son, brother, husband, father, uncle and PawPaw. He had unwavering faith in his Savior Jesus Christ and looked forward to the day he would be rejoicing with Him in Heaven. He will be greatly missed by all his family and friends.
Curtis graduated from Sidney Lanier High School where he was a football player. He worked at CSX railroad for 27 years. He was also an active member of Taylor Road Baptist Church.
Visitation will be held on Wednesday, October 5, 2016 at 12 pm at White Chapel-Greenwood Serenity Funeral Home. The chapel service will be at 1:00 pm led by Dean Finch followed by a graveside service led by Dr. Larry Morrison.
In lieu of flowers, the family requests that donations be made to:
The Parkinson Association
of Central Alabama
www.parkinsonaca.org