Sidney Lanier HS - Alumni Montgomery Alabama
---
Does anyone know when and where our 50th Lanier Reunion will be for the Class of 1966? - Rick Murphy
---
From John Santangini :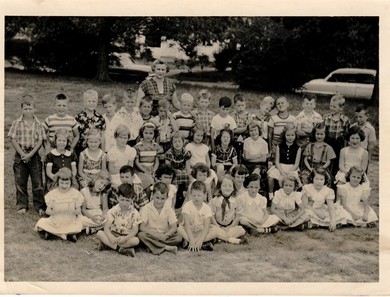 About a year ago Betsy Shelburne posted a picture of Mrs. Wilhelm's first grade class at Cloverdale. My mother passed that same picture along to me a few years ago and written on the back are the names of everyone in the picture, so I decided to repost it along with the names – I'm sure that you'll recognize many of them. Notice that Bob Ashurst and Arthur Britton are barefooted (those were the good old days) and I bet that most of the boys along the back row were too – I know I was. Enjoy!
FIRST ROW seated – L to R – Jackie Burns, Bob Ashurst, Steve Marshall, Susan Moon, Charlotte Keith, Judith Ruebel, Mary Jane Armour, Jo Ann Marshall
SECOND ROW seated – L to R – Elizabeth Booth, Olivia Schwarts, Bobby Sabel, Kathy Frasier, Jackie Golden, Marcia Griffin
THIRD ROW seated in chairs – L to R – Katherine Williams, Ellen Mertins, Pat Ingram, Kay Grobmeier, Nancy Thompson, Lander Marshall, Evelyn Morton, Betsy Shelburne, Sara Ann Huckaby, Mary Ann Allen, Beverly Turner
BACK ROW standing – L to R – Arthur Britton, Ricky Jabour, Joe Williams, Rainer MacGuire, Buster Williams, Eugene Grant, Jeff Kirkland, George O'Brian, Timbo Hubbard, Allen Stewart, Randy Roark, Ricky Blevins, John Santangini, Alan Hargrove, Dick Scott, Tommy Brian
Teacher – Mrs. Wilhelm
---
Class of 1991 Reunion
October 7-9, 2016
Your Committee is making Plans for a Basketball Tournament or Game as a Fund-Raiser for the school. Would like to open it up to all Sidney Lanier Alumni. Games would be held on Oct 8, 2016.
Contact Aseelah Saaam at
334-201-4468 or aseelahsa@gmail.com
Contact Tina Brewton at
972-898-3188 or tinabrewton@yahoo.com
---
THE LANIER ALMA MATER
Dear Lanier, though fleeting time
May bear us far away from thee
Forever in thy hallowed halls
Each heart will dwell in loyalty.
Faithful to the blue and white We will be.
And before thy shrine of knowledge
We will kneel to thee

Alma Mater, thy standard waves
Triumphant through each passing year;
We love thy spirit, true and brave,
Thy courage through each threatening fear,
We will hold when we began our lives anew,
Memories of the sheltering walls,
And of thy friendships true.

Georgia Wagner Morgan - Music 1928
Louise Shepherd Fleming - Words 1928
---
---
Send private messages to Classmates!
It's free and secure! Your email is never revealed! Login-in and click on Message Center! Need a Login? Register Here!
---
---

---
Tell Your Classmates to Register and Join in the conversations.!
---