Sidney Lanier HS - Alumni Montgomery Alabama
SLHS Class of 1965 50-year Reunion
Friday, April 24, 2015, & Saturday, April 25, 2015
in Montgomery, Alabama.
Sign-up Today!
Class of 1970 - 2015 Reunion
Saturday, April 25, 6:30 pm
Renaissance Convention Center
Downtown Montgomery
The Committee is working hard to complete the plans for 45-year Reunion. Make your plans NOW to be a part of this great event. Check here daily for updates.
FROM A LANIER GRADUATE OF 1956.......
TODAY, my wife and I will be taking two Bach 2000 trumpets to SLHS Band Director Gibson, as our modest contribution toward helping support the rebuilding of the band program. My hope is that some other alumnus will join us in the effort. Immediate need is for a trombone. (I was in the Class of 1956 -- and Chorus, not Band.) We could sure use your help here!
Class of 1995 20-Year Reunion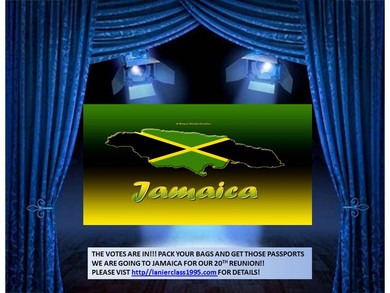 The Votes Are In!
Pack Your Bags &
Get Those Passports
We Are Going To
Jamaica For Our
20th Reunion!

Please Visit LanierClass1995.com
THE LANIER ALMA MATER
Dear Lanier, though fleeting time
May bear us far away from thee
Forever in thy hallowed halls
Each heart will dwell in loyalty.
Faithful to the blue and white
We will be.
And before thy shrine of knowledge
We will kneel to thee

Alma Mater, thy standard waves
Triumphant through each passing year;
We love thy spirit, true and brave,
Thy courage through each threatening fear,
We will hold when we began our lives anew,
Memories of the sheltering walls,
And of thy friendships true.

Georgia Wagner Morgan - Music 1928
Louise Shepherd Fleming - Words 1928
Send private messages to Classmates!
It's free and secure! Your email is never revealed!
Login-in and click on Message Center!
Need a Login? Register Here!