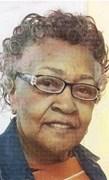 Jessie Cargill Bibbins, 83, of Montgomery, Alabama went home to be with the Lord Tuesday, October 18, 2016.
Jessie served as an educator for over 40 years in Greene County Public Schools and Montgomery County Public Schools.
Funeral services will be held Saturday, October 22, 2016, at 11:00 a.m. at First Baptist Church, 347 North Ripley Street, Montgomery, Alabama. Reverend E. Baxter Morris, officiating. Interment in Eastwood Memorial Gardens.
She is survived by a daughter, Chandra Bibbins Lawrence (Albert); two sons, Wendell Jeffery Bibbins, Lawrenceville, Georgia; and Dr. Wilfred Jerome Bibbins; granddaughters who she dearly loved Jessika Nettles, Jillian Bibbins, and Jadelyn Bibbins, a brother, David Cargill, Ramer, Alabama; god-children, Dante and Bernita Stewart; god-grandchildren, Allen and Jordan Stewart. The body will lie in repose one hour prior to funeral services.
Published in the Montgomery Advertiser from October 19 to October 21, 2016