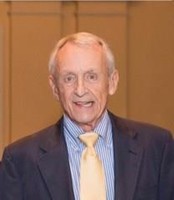 Randolph "Randy" Benjamin Moore, III, 73, went to be with our Lord and Savior the 16th of September, 2017. Randy was a lifelong resident of Montgomery, Alabama and was loved and adored by family and friends. He is preceded in death by his father and mother, Randolph Benjamin Moore, Jr., and Mary Campbell Moore, as well as his sister, Mary Elizabeth "Betty" Coale.
Randy is survived by his loving son, Randolph Benjamin "Ben" Moore, IV, (Kelli), grandchildren Caroline Elizabeth Moore and Randolph "Benjamin" Moore, V, a brother-in-law, Harwell Ellis Coale, Jr., nephews Harwell Ellis Coale, III (Katie) and Randolph Benjamin Coale (Natalie), and niece Elizabeth Coale Williams (Kevin).
Visitation will be held on Friday, September 22, 2017 at First United Methodist Church in Montgomery, Alabama, at 11:00 AM, with a Celebration of Life ceremony following at 12:00 PM in the Sanctuary. A private graveside service at Greenwood Cemetery will precede the visitation.
Online condolences may be made to the website guestbook at www.leak-mc.com.
In lieu of flowers, memorial donations may be made to:
The Joseph Ministry
First United Methodist Church
2416 W Cloverdale Park
Montgomery AL 36106
Published in the Montgomery Advertiser on Sept. 20, 2017.