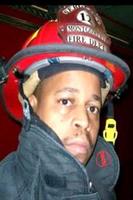 Mr. Walter Lewis (Duke) Miliner Jr. a resident of Montgomery, Alabama passed away on Sunday, March 18, 2018. He was born to Walter and Gwinderlyne Miliner on April 9, 1968. He grew up in Montgomery, Alabama where he received early educational training and graduated from Sidney Lanier High School in 1986. After graduating he enlisted in the United States Army and after his initial enlistment, he joined the Alabama Army National Guard.
In 1990 he joined the Montgomery Fire Department and served the citizens of the city of Montgomery faithfully for over 23 years until his retirement in 2014 at the rank of sergeant. He fought during operation Desert Storm in 1991 and he was also deployed in 2003 to fight the war on terror. He received an honorable discharge from the U.S. Army at the rank of sergeant after his last deployment.
Walter Lewis Miliner Jr. leaves to cherish his memories his mother, Gwinderlyne Miliner, father, Walter (Mary) Miliner, brother, Kedrick (Lavonia Miliner), stepbrothers, Trevor Muhammad (Angela) and Lee E. McBryde Jr., aunts; Alice Clark, Dayton, OH, Ester Montgomery, Detroit, MI, Lorean Davis, Detroit, MI, Mildred (C. Knox), Oxford, AL, Marie D. Buycks, (Dayton, OH), Ophelia Miliner (Tallassee, AL), Teresa Miliner (Dayton, OH), Uncles, Raymond (Mary Jane) Davis (Oxford, AL) John L. Davis (Oxford, AL), Bosie W. Miliner (Dayton, OH), Marvin E. (Mertyl) Miliner (Dayton, OH), nephews; Jaylon Miliner, Kameron Miliner, Princeton Palmer, and Talib Muhammad nieces; Diamond Thompson, Jamira Palmer, Amani Muhammad, Analya Muhammad, and Qadira Muhammad, a special friend Sandra Davis, and a host of other relatives and friends.
Funeral services will be held on Saturday, March 24, 2018, at St. Paul Missionary Baptist Church 1462 Marler Rd. at 11:00 A.M. with Dr.Benjamin Jones officiating. Burial will be held on Tuesday, March 27, 2018, at 12:30 at Alabama National Cemetery, Montevallo, Alabama. Massey Memorial Funeral Home directing.