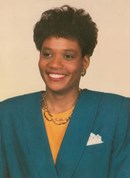 Mrs. JoAnn McBride Brown a resident of Montgomery, Alabama expired January 5, 2017. She was preceded in death by her father, Willie Joe McBride; brothers, Ray (Mattie) Blair, Crawford (Jackie) Blair; sisters, Shirley McBride, Argartha Bonom.
Funeral services will be held Saturday, January 14, 2017, at 11:00 a.m. from Resurrection Catholic Church, 2815 Forbes Drive with Father Manuel William, officiating. Interment will be Tuesday, January 17, 2017, at 11:00 a.m. in Alabama National Cemetery, Montevallo, Alabama.
She leaves to cherish her memories: a devoted husband of 31 years Michael Carl Brown; two daughters, Michelle Ashley Brown and Mikayla Mildred Brown; mother, Dorothy McBride. ; special thanks to Dr. Scott McDaniel MD and Renee Warren, NP of the Montgomery Cancer Center as well as Montgomery Hospice.
Published in the Montgomery Advertiser from Jan. 10 to Jan. 13, 2017