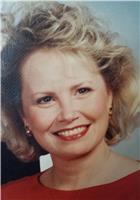 Kristin Spain Morris passed away on January 27, 2018, at Hospice of West Alabama. She was 71 years old, born in Opelika, Alabama to the late Thomas Spain and Bettie H. Spain St. John.
Kristin's family moved from Opelika to Montgomery in 1960. She graduated from Lanier High School in 1965 and attended Abilene University for one year and returned to Alabama, where she attended and graduated from the University of Alabama, earning her BA and MA. She loved teaching and taught in the Tuscaloosa County Adult Education program for many years, helping many to learn to read and get their GED.
Survivors include her husband of 47 years, Phillip Morris; daughter, Anna R. Morris; son, Drew Morris (Rebekah); sister, Kayren Carter Whiten (Wallace); brothers; Tommy Spain (Judy); Lee Spain (Maralyn); and Michael Spain; grandchildren, Jon White, Elle White, Ashton Morris, Elizabeth "Lizzie" Grace Morris and Lola Morris; and many nieces, nephews and cousins.
She was lovely, genuine, compassionate, filled with grace and humility, blessed with a beautiful singing voice, and a beautiful spirit full of love for others. She loved to sing and enjoyed participating in local musicals with the Tuscaloosa Civic Chorus. She loved God, her family, her church family, and graced many with her singing voice. She had a beautiful smile that captured Phillip's heart at their first meeting.
Developing dementia, finally diagnosed in 2005, prompted attendance to Caring Days, a program for adults with a memory disorder. The angels of Caring Days cared for Kristin, 5 days a week, from March 2007 to January 19, 2018. There are not enough good words to say how well she was treated, loved, and engaged with touch, music, art and other media, while at Caring Days.
Thanks to Dr. Bob Grubbs, Dr. Thomas Patton, Dr. Thad Ulzen, Hospice of West Alabama outpatient and inpatient care and many, many friends that loved Kristin and our family throughout her life.
A celebration of her life will be held at 11 a.m. Saturday, February 3, 2018, at the University Church of Christ Campus View Auditorium. A reception and fellowship follow the service.
In lieu of flowers, donations may be made to:

Caring Days
Hospice of West Alabama
Arrangements through Magnolia Chapel Funeral Home North.
Published in Tuscaloosa News on Feb. 1, 2018.