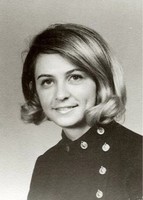 Rebecca (Becky) Gober, 69, passed away peacefully on Wednesday, August 17th, 2016. She was preceded in death by her mother, Mary Frances Porterfield, her father, Col. Samuel Porterfield, and her husband, Dick Gober.
Prior to residing in Gainesville, Florida, Becky lived in Montgomery, Alabama, where she raised her daughters, Jennifer Blake and Susan Blake Norton. She graduated from University of North Carolina at Chapel Hill, and received her Masters from Tulane University.
Along with her two daughters, Becky is survived by her grandchildren, Luke and Marlowe Norton, son-in-law Chuck Norton; step-son Randy Gober, step-daughter Ashley Billeri, grandchildren Ava and Bennett Billeri; her brother Don Porterfield and sister-in-law Betty Porterfield, niece Karen Kearns and nephew Sam Porterfield.
In lieu of flowers, donations may be made in her name to Big Bend Hospice in Tallahassee. Susie Mozolic of Bevis Funeral Home (850-385-2193) is assisting the family with their arrangements.