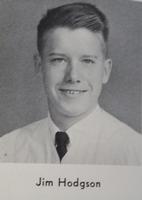 James Clark Hodgson died peacefully at his home in Old Cloverdale on Friday, February 15, 2019. A lifelong Montgomerian, Jim was born on September 14, 1947, to John Sealby Hodgson and Alice Angell Jenkins Hodgson. He was predeceased by his parents and by his brother Michael Jenkins Hodgson.
Jim attended Marion Military Institute [after] graduating from Sidney Lanier High School in [1965]. He was a 1972 graduate of the University of Alabama and served in the United States Navy. After a twenty- two year career in accounting with Moody and Hodgson, he worked as CFO of Transcendence, Inc. He was a Certified Public Accountant and Certified Manager of Accounting.
Jim was a graduate of Leadership Montgomery. He founded the Sidney Lanier Alumni Group. He was a volunteer tutor and served on many nonprofit boards of directors.
Jim was a generous donor of his time, talents and resources to civic and charitable organizations. He loved his native city and community. He was a loyal fan of the University of Alabama Crimson Tide. Jim enjoyed a wide circle of friends who cherished his keen mind, irrepressible wit and kindness. They, along with his devoted cousins, mourn his loss.
Jim's survivors include his husband, Stephen Millard Brickley and his children - Robbie Bryant Hodgson Lewis and her husband Chuck of Chelsea, Alabama, and James Clark Hodgson, Jr. and his wife Meghann Cantey of Suwanee, Georgia. He also leaves his brothers John Sealby Hodgson, Jr. and his wife Glenda and George Thomas Goodwyn and his wife Charlotte. He will be missed by his grandchildren Annabelle Sarah Lewis, Evie Marie Lewis, Dorothy Rose Dossett, and Thomas Jefferson Dossett IV.
Services will be at St. John's Episcopal Church on Wednesday. February 20, 2019, at 2 pm. Visitation will be at 1 pm in the Parish Hall. Interment will be at Greenwood Cemetery following the service.
In lieu of flowers, the family requests donations to:

St. John's Episcopal Church
113 Madison Ave
Montgomery AL 36104

Hospice of Montgomery
1111 Holloway Park
Montgomery AL 36117

The Sidney Lanier Alumni Group
1756 South Court Street
Montgomery AL 36108

or to a charity of your choice
Published in the Montgomery Advertiser from February 17 to February 19, 2019