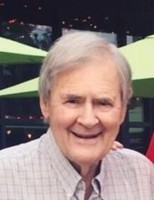 Bobby Wayne Hendrix of Weaver, Alabama went to see his Heavenly Father and reunite with his beautiful wife Janie, Sunday, January 28, 2018. He was born in Dothan, Alabama, on August 10, 1943. Bobby is preceded in death by his father, Luther Rex Hendrix, his mother Maggie Merlene Brown, and his wonderful wife Janie Yeager Hendrix.
Bobby is survived by his daughter Paigh Hendrix Robinson, his son Karl Rex "Bubba" Hendrix, his son-in-law Scott Robinson, his daughter-in-law Carrie Watson Hendrix, his adopted son Slava Sayenko and his wife Alena; His seven grandchildren: Ashley and Logan Robinson, Taylor, Tristan, Tucker and Tanner Hendrix and Angelina Sayenko. Bobby is also survived by a brother Billy Hendrix, and two sisters, Wanda Kuhl and Cathy Hendrix.
Bobby attended Sidney Lanier High School in Montgomery, graduating with the class of 1962 and later attended Jacksonville State University where he met his beautiful bride, Janie, to whom he was married for 52 years.
During his 74 years of life, he was a member of the Hiram Lodge #42, Anniston, Alabama. He was a member of First Baptist Church Weaver, where he was a deacon for over 40 years. He taught a men's Sunday school class for over 15 years and went on many mission trips. On one trip to Ukraine, he and Janie decided to bring a young 16-year-old boy home to raise. Slava and his family still live in the US.
Bobby also served on the Weaver City council for many years and was later elected Mayor of Weaver, Alabama.
Bobby loved to tell stories and could weave a tale in vivid detail. Building things with wood and fishing were his favorite pastimes. Most of all, he loved sharing Jesus with others and wanted to know where each person he talked with would spend eternity.
In 2014, he moved to Trussville to live with his daughter Paigh and started attending Church of the Highlands. One of his greatest accomplishments was reading the bible cover to cover, just finishing it for the 5th time Dec. 28, 2017.
Visitation for Bobby Wayne Hendrix will be at First Baptist Church of Weaver, Thursday, February 1st from 3:00-5:30 pm with service starting at 6:00 pm. Graveside will be Friday, February 2nd at 11:00 at Greenwood Cemetery in Montgomery, Alabama.