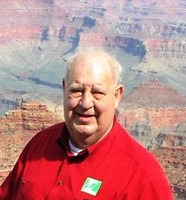 Memorial service for Robert E. Stephens, 72, of Decatur will be Saturday, April 18, 2009, at 10 a.m. at St. Andrew Presbyterian Church with the Rev. Dr. John Bush and the Rev. Steven Arndt officiating and Roselawn Funeral Home directing. Burial will follow at 3 p.m. at Spring Creek Cumberland Presbyterian Church Cemetery in Montevallo, Alabama. Visitation will be tonight from 6 to 8 at the funeral home.
Mr. Stephens, who died Tuesday, April 14, 2009, at his residence, was born Feb. 25, 1937, in Montgomery to Sidney and Dorothy Bach Stephens. He graduated from The University of Alabama and retired as a music instructor at Calhoun Community College. He was a member of St. Andrew Presbyterian Church where he was an elder and former choir director.
Survivors include his wife of 44 years, Mavis Bridges Stephens; two sons, Karlton Robert Stephens and his wife, Janet, of Madison and Jeremy Edward Stephens and his wife, Gretchen, of Decatur; one sister, Mary Julia Kelley of San Angelo, Texas; four grandchildren, Abbey Nicole Stephens and Ella Brooke Stephens, both of Decatur, and Kathleen Eva Stephens and Thomas Alexander Stephens, both of Madison; and one niece and one nephew. His parents and one brother, Sidney F. Stephens Jr., preceded him in death.
Pallbearers will be Tom Meier, John Brandon, Ray Campbell, George Hilleary, Donald Weems, John Newbill, Brian Oakes and Jerry Thomas.
Memorials may be made to:
-- This obituary was originally published in the Decatur Daily.