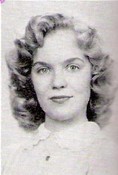 Barbara Searcy (Booth) Wilkerson, of Montgomery, Alabama, passed away on April 6, 2011 at her home after a brief illness. Barbara was born on December 13, 1932, in Birmingham, Alabama. After living in Birmingham and Tuscaloosa for several years the family moved to Montgomery in 1940. Barbara attended Cloverdale Elementary School, Cloverdale Junior High School, and graduated from Sidney Lanier High School in 1950. She attended Montevallo University and graduated from Auburn University.
At Auburn she was a member of Chi Omega, a Glomerata Beauty and Lee County Maid of Cotton. After graduation Barbara taught English, Speech, and Drama at Sidney Lanier, and at Robert E. Lee in Montgomery, Alabama. Barbara was inducted into Lee High School Hall of Fame in 2001.
Barbara was preceded in death by her parents, Henry Britton Searcy and Eva Mae Kennedy Searcy, and by her husband, William Dale Wilkerson. She is survived by sons, Joseph Thomas Booth, IV; Britt Searcy Booth (Kay); Robert Kennedy Booth, of Montgomery; her step-sons Dale Wilkerson of Lyons, Colorado; Dean Wilkerson (Betsy) of Warner Robbins, Georgia; her grandchildren Jennifer Diane Gotrich, Brian Dale Wilkerson, Katherine Wilkserson and Sara Michelle Wilkerson.
Barbara is also survived by her sister Marjorie Searcy Williams (Miller, Jr.); a niece Meridith Williams Peeples (Sam); nephews Miller Williams, III (Alan) and Carey Williams (Kay) all of Birmingham, Alabama; and three grand-nephews.
Barbara was actively involved in the First United Methodist Church, United Methodist Women and The Tower Class. She was a member of DAR, ADK, PEO, the Literary Club and numerous other organizations.
The family wishes to express deep appreciation for her caregivers Ebony Wheat and Evelyn Law.
Memorial services were held at First United Methodist Church on Monday, April 11, 2011, at 2:00 pm.

The family requests that in lieu of flowers that memorial contributions be made to:

Stegall Seminary Scholarship Foundation
2416 West Cloverdale Park
Montgomery Alabama 36106
or
The First United Methodist Church