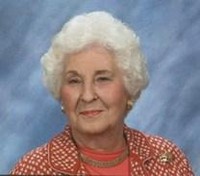 August 16, 1927 - December 15, 2011
Elizabeth "Lib" Thames Robinson passed away Thursday, December 15, 2011, after a lengthy illness. Elizabeth graduated from Sidney Lanier High School and Huntingdon College in Montgomery, Alabama. She taught school in Montgomery and Mobile through the years.
Mrs Robinson loved her yard of beautiful flowers and trees. She cherished each of her faithful pets that enriched her life. She loved her children, grandchildren, and her great-grandchild. Her church, Springhill Baptist, was a very important part of her life as was her faithful band of "girlfriends" that gave her hope and joy these last few years without her husband, John.
Mrs. Robinson was preceded in death by her loving husband, John P. Robinson; her parents, Howard and Sarah Thames of Montgomery, Alabama; and her brother, Brudy Thames.
Mrs. Robinson is survived by her son William (Rosalind) Robinson of Mobile; daughter, Alicia "Lisa" Griffeth of Greenville, SC; grandchildren, Kelly King and Scott (Jenna) Robinson; great-grandchild, Mary Ryan King; step-great-grandchildren, Connor and Karlee Burns; sister, Sarah Tripp of Montgomery; sister-in-law, Barbara Ann Thames of Huntsville, AL; brothers-in-law, Ray Robinson of Mobile and Paul Robinson of Huntsville.
Funeral services were held from the chapel of Radney Funeral Home on Dauphin Street on Monday, December 19, 2011, at 2 p.m. The family received friends at the funeral home from 12 noon until the service hour. Interment was in Pine Crest Cemetery.
Serving as pallbearers were Scott Robinson, Mack Graham, Jeff Stewart, John Palmer, Ryan King, Tommy Knight, and Larry Palmer with Terry Joe Debrow and David Hill serving as honorary pallbearers. Flowers were accepted as well as donations to Springhill Baptist Church. Condolences may be offered at www.radneyfuneralhome-mobile.com. Arrangements under the direction of Radney Funeral Home-Mobile, Mobile, ALlabama